Puerto Escondido is the secret, not so secret, hotspot of Mexico, attracting an ever sexy crowd of young digital nomads, remote workers, surfers, yogis, beach bums and a few families here and there. Coworking in Puerto Escondido has been on the rise since the last two years and luckily the internet situation is getting better.
As most travellers know, the Wi-Fi situation is pretty spotty in Puerto Escondido, but – since Starlink entered the game, more and more businesses are offering reliable internet speed from satellite or fiber optic (50mbps – 100mbps). Compared to 2021, when Selina was the only Co-Working space, the offer is now catching up on the demand.
Puerto has been an all time favorite for pro-surfers, because of the high waves in Zicatela beach. And – it's becoming increasingly popular among travellers, who otherwise wondered around the Tulum and Playa del Carmen area.
The charm of Puerto Escondido's lies in its natural beaches, stunning colorful sunsets, small colonial neighborhoods and the Mexican feel to it. Most of the businesses are Mexican owned, and even though this former fisherman's village is becoming rapidly international, you still find a lot of tradition here.
Find out, which are the best Co-Working spaces in Puerto Escondido, as well as Co-Working Cafés in 2023 (as of January), if you intent to travel to the Oaxacan coast and spend some summer days here!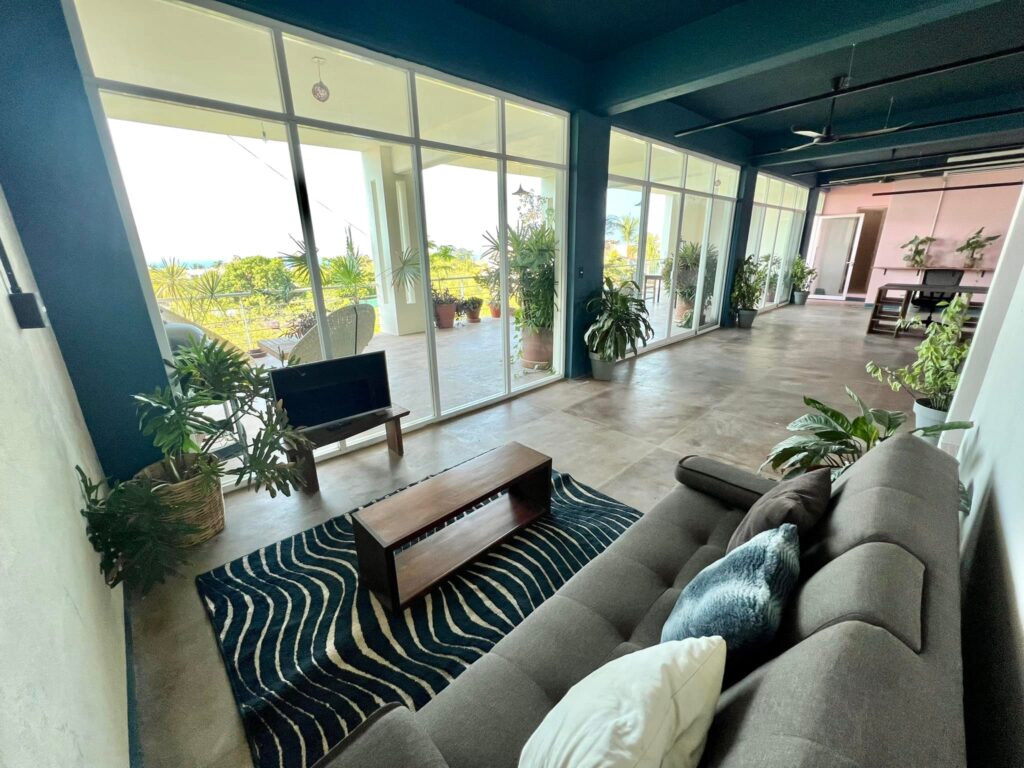 Co-Working Spaces in Puerto Escondido
Ñuu Cowork: Rinconada
Ñuu is a stylish new co-working space in Puerto Escondido that opened this year and calls in the committed types among you, staying at least for a month. Monthly rates are at 3000 pesos and include a creative space in the best area of town (Rindonada boulevard) with lots of cafés and restaurants close-by, as well as a stones throw away from Carrizalillo and Manzanillo beach.
You get 24/7 access, a sofa and TV corner, a balcony with plants and view over the Benito Juárez Blvd., a large kitchen and several co-working desks, plus private meeting rooms. Most of the residents at Ñuu Cowork in Puerto Escondido are working as architects, designers, digital marketers and entrepreneurs.
Only monthly rates available at 3000 pesos / month, if there is a spot free.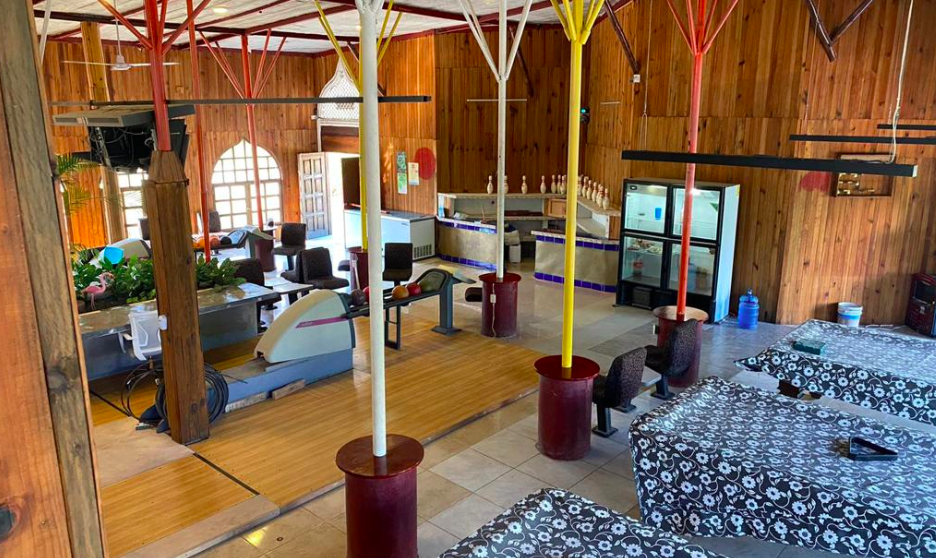 Pauline's Creative Hub: Bacocho
This former bowling center / night club is a recent addition to Puerto Escondido's Co-working spaces, with meeting rooms, a huge coworking space and a rooftop terrace with on-site restaurant and bar, where they also host live music on the week-ends. Special entrepreneurial workshops are offered regularly throughout the week in one of the meeting room for free.
The name derives from the Hurricane Pauline, that passed by the Oaxacan coast in 1997. The uniqueness of the building is the all around graffiti (Berlin style) and its exterior Arabic architecture, which makes it look a bombed Moroccan Riad on the outside, and like a huge club on the inside, turning it into a stark contrast to the rest of the residential villas and small-town houses in the rather "nice" Bacocho area.
Pauline's is attracting a mature, grounded and entrepreneurial crowd, whereas some of the other Co-working spaces in Puerto Escondido (ähem Selina) host the younger remote worker and party peeps.
Daily passes are at 300 pesos, weekly and monthly membership options are cheaper.
La Oficina del Puerto: Zicatela
La Oficina del Puerto just popped up end of 2021 and is a light-filled cosy office space with pillows on your co-working benches, right at the tourist strip of Zicatela beach. You can choose between an indoor and an outdoor working area with amazing views over the beach and its colorful sunsets.
Propped with all that you need, such as several co-working desks, 2 cabins for private calls and unlimited coffee supply, it's the perfect place to meet fellow entrepreneurs and digital nomads.
Daily passes start at 290 pesos, monthly membership rates are at 1500 pesos.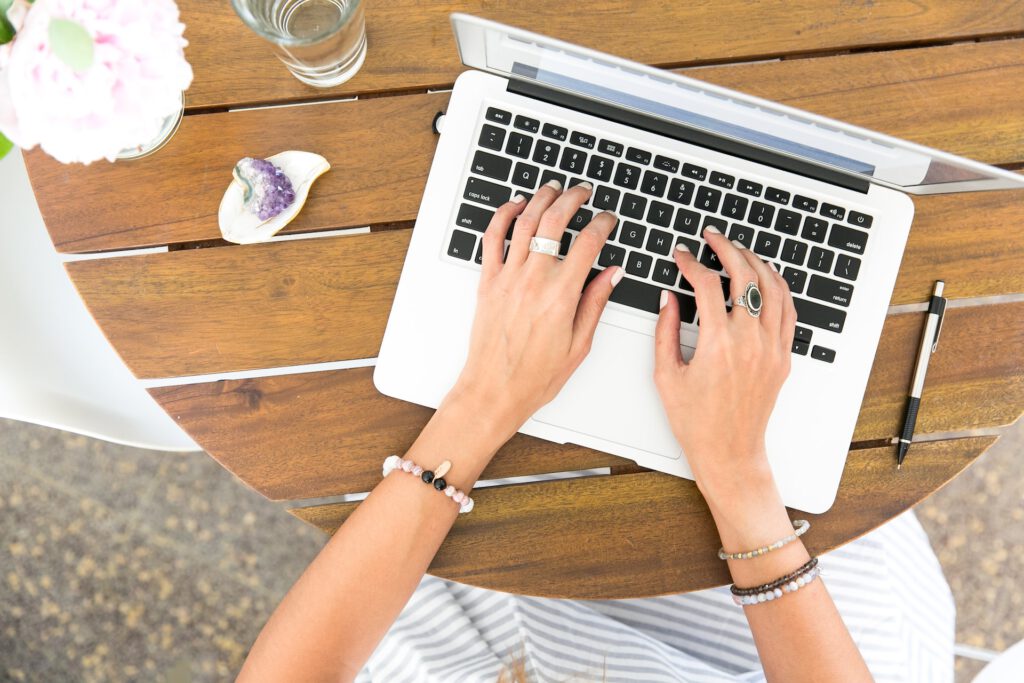 Co-Working Cafés in Puerto Escondido
Since the internet in Puerto is not up to par with the cities in Mexico, you need to know where to go to not waste your whole day trying to connect. I literally spent days last year finding out where to set-up shop to get calls and some decent (noise-free) work done, since my hotel and also my later Airbnb's were no option.
Luckily the situation is improving day by day and Airbnbs are upping their game with faster Wi-Fi speed. It sometimes just requires a top-up with the phone company to get more mbps flowing. I had calls in a place with 50mbps and it worked really well, plus we were 4 in the house using the net.
* Another option is to use Telcel's "paquete amigo 20" for 20 pesos. You get an hour of unlimited up- and downloads on your phone, which you can connect via hotspot with your computer, to get an hour of video calls or flow state work done. However, Puerto Escondido has sometimes Wi-Fi outages that, when they happen, also affect the phone service.
Amarisa Café: Zicatela & La Punta
Amarisa, in both La Punta and Zicatela, is the go-to option to work, to get delicious food and healthy drinks. The one in La Punta is busier and usually the music can be more distracting, since La Punta is the surf district in town and the Wi-Fi in most homes does not exist.
I prefer the smaller one in Zicatela, as it got A/C, the music is seldomly disturbing and you get the view to the beach.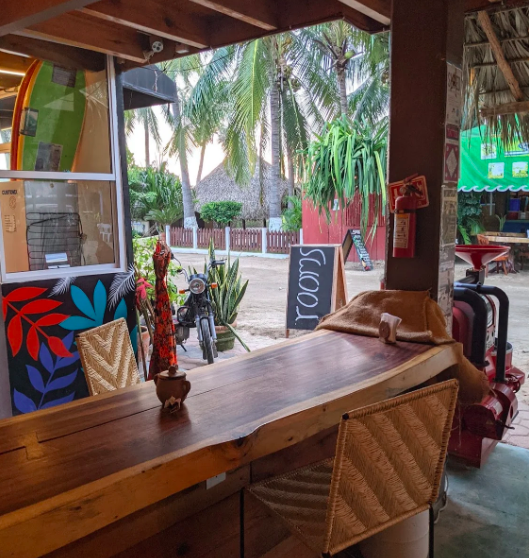 N'duva Café: La Punta
This small café is at the end of the Alejandro Cardenas street shortly before the beach and offers one table inside and two tables outside, plus a long wooden desk with a few bar chairs. You'll recognize the place by a wall filled with wellness and fitness posters, and people sitting here either sipping coffee or using their laptop.
N'duvas Wi-Fi has decent speed for video calls, just that you are close to the main stretch of La Punta and a lot of people pass by here.
They also sell highly popular coffee from organic farms in Oaxaca and have a second branch with even more coffee and organic products to buy in the centre of town.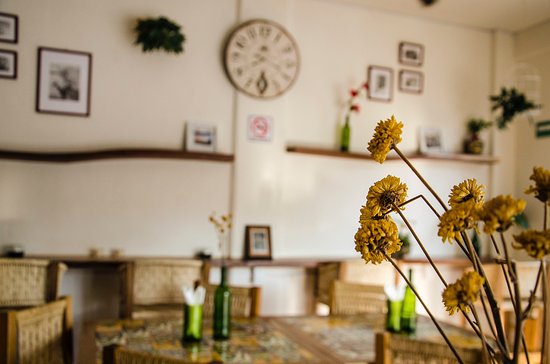 Café Losodeli, Co-working and Co-living: Centro / Rinconada
One of the best Ayurvedic Cafés + Coworkings in Puerto Escondido, that also features an outdoor terrace with a pool, a small co-working room with A/C and a hostel upstairs. You can book single and shared rooms to co-live in Hostal Losodeli, or just come for the day, week or month to work from here (and eat some of their delicious vegan and vegetarian food!).
There is ample space inside of the café, outside under a palapa roof on the terrace, on tables next to the pool and in the coworking area. Working from the café is free, the A/C room and all spaces from the hostel count as co-working spaces and have to be paid.
Day passes start at 190 pesos.
---
To get the full list of all co-working spaces including their contact info and even more co-working cafés in Puerto Escondido in 2023, head over to Amazon and get our Cool Guide to Puerto Escondido as Kindle or paperback!
It also includes the best excursions, fashion shops, leisure activities and hotel recommendations!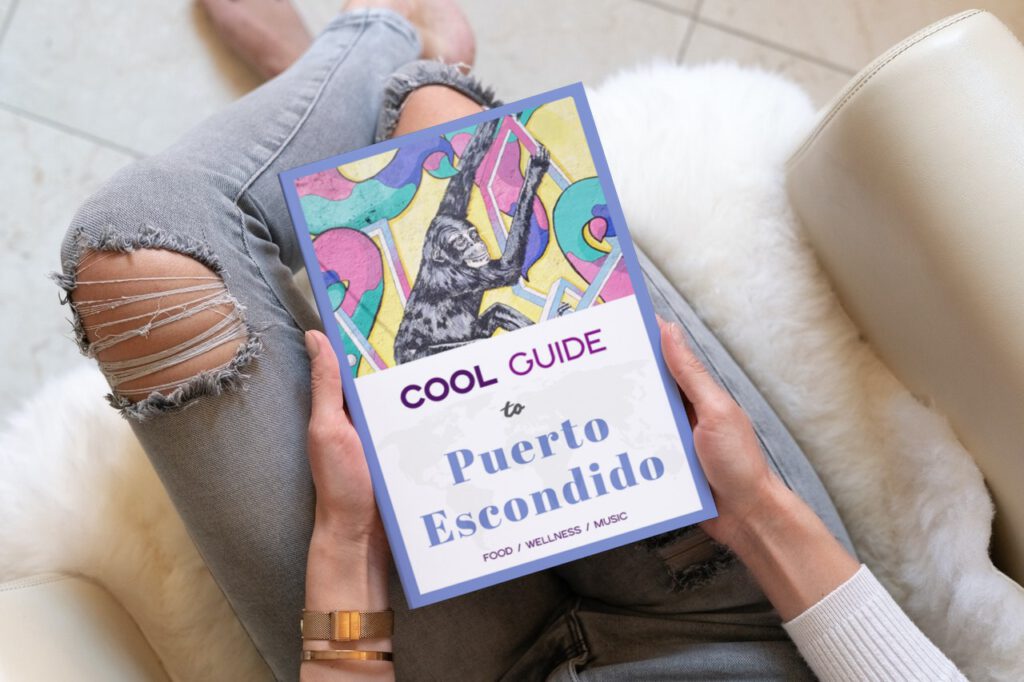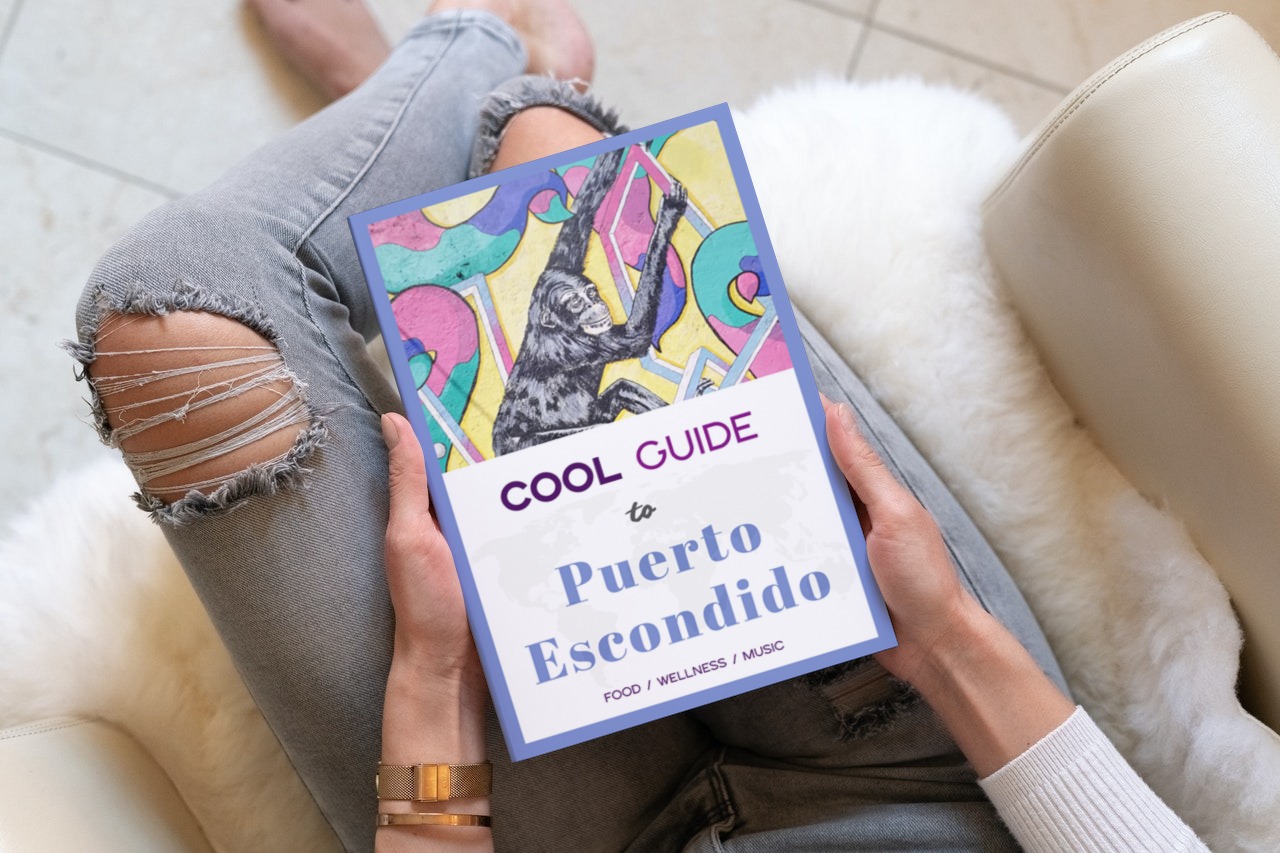 I would have liked to list two more coworking cafés in Puerto Escondido, El Petit Café in La Punta and Café La Fé in Centro, but both of them are closed for maintenance at the moment.
And here is why I did not list Selina: It's generally over-crowded, the open-air restaurant downstairs has sand everywhere, so you feel like you are chilling on the beach, which for my brain does not translate to work, the music is loud and the upstairs co-working with A/C has a bunch of 20 somethings from the hostal taking one call after the next in the shared space (not the phone booth). Reminds me of a call centre rather than a co-working, so concentration does not come easy here.
---
Oaxaca de Juárez: Mexico Guide for Street Art, Food and Cocktails
The Best Festivals in Oaxaca: Day of the Dead 2023
How to get from Oaxaca to Puerto Escondido in 2023?