Oaxaca City is known for its traditional Mexican festivals, more than any other part of Mexico. The state of Oaxaca preserves a lot of indigenous heritage, knowledge and rituals. There are 16 different languages spoken in the state alone, and 570 different municipalities, of which 418 have a form of self-governance due to local customs.
The Best Yearly Festivals in Oaxaca de Juárez, Mexico
The best known and biggest festivals in Oaxaca City are "La Guelaguetza" and "Dia de los Muertos". The Oaxaca Day of the Dead celebration takes place from 31. October till 2. November. You can get your face painted on any street corner, see beautiful processions passing through the streets, and visit family altars.
Day of the Dead in Oaxaca, Mexico, 2023
Day of the Dead in Oaxaca is a highlight in Mexican traditions. Nowhere in the country this festival is celebrated more than in Oaxaca City. Although it is similar to the American sister festival Halloween, "Día de los Muertos" has its own traditions. For Mexicans, Day of the Dead is the time of the year to honor their loved ones, who passed away, give offering to the spirits and coming together as a family.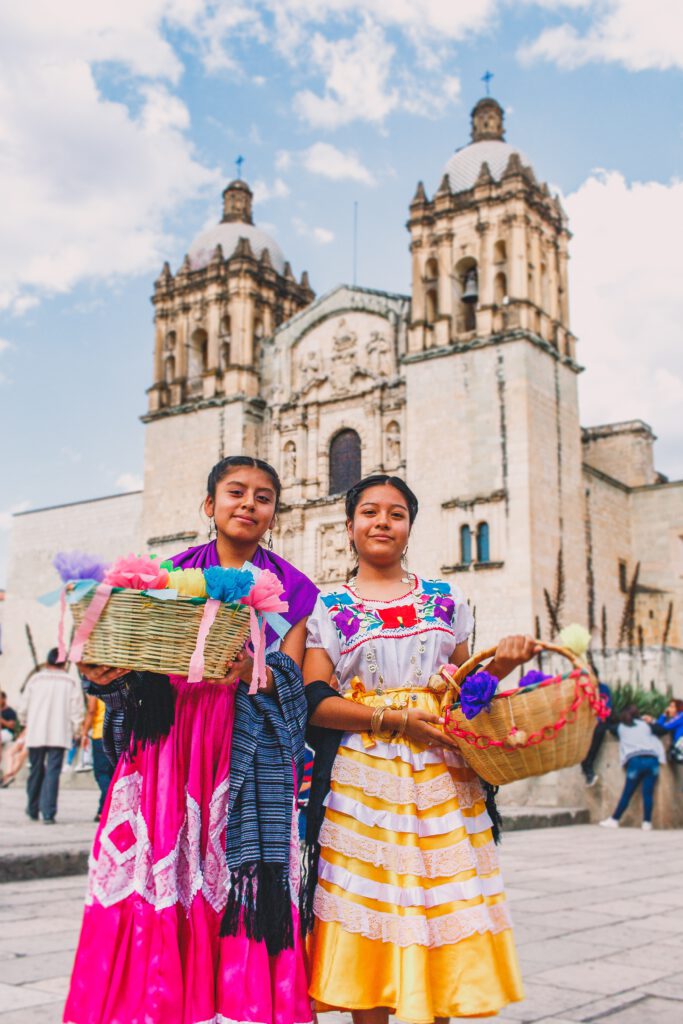 Why does Mexico celebrate Day of the Dead?
For Mexicans the theme of death has always been prevalent. Starting with the Spanish conquest over the Azteks, the decimation of a large part of the indigenous population in the 16th century, the invasion of North America, followed by the Mexican revolution, Mexico celebrates Day of the Dead to partly laugh at death and to embrace it all the same. Mexicans know more than any culture that death is part of life.
Furthermore, Mexico is still rich in ancient traditions that date back to the Azteks, Zapoteks, and Mayans, as well as the later addition of Mexican Christianism. For the Azteks, death was part of the cycle of life, and a lot of their stories center around travels to the underworld, spirit animals of warriors lost in a battle, and offerings to deities. In ancient traditions dead souls where as real as living souls, since the whole society was spiritually connected to more than what the eye perceives.
Mexican Day of Dead Traditions
In Oaxaca City the Mexican Day of the Dead Traditions start with preparing an altar made of several levels with marigold flowers, sweet bread for the dead, colorful skulls, Mezcal, and other items families want to offer their loved ones.
The 31st is usually to remember children, who had to depart too early. The 1st of November is for the adults and the last day is to honor the saints. The third day is often the day when families open their homes, so that visitors can come and see their altar.
Throughout the city, many processions with women dressed in colorful dresses and painted faces will be going on, music bands are playing, performances are happening, and make-up stalls on every corner offer you to get your own skeleton face painted!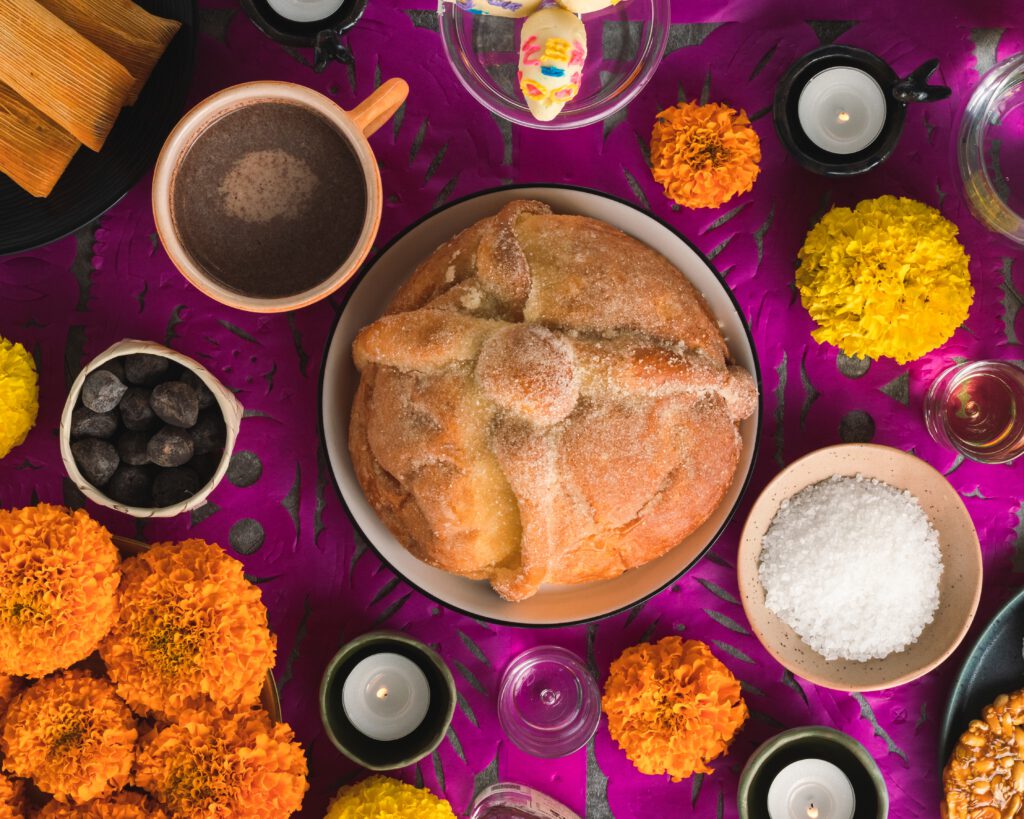 How to prepare for Day of the Dead in Oaxaca 2023
Be prepared to arrive in a fully packed Oaxaca City. The streets are overflowing with people, there are altars with flowers and skulls everywhere (in every shop and home), a lot of events are happening in the city – from poetry jams, to dances, to music festivals, to street celebrations – and the energy will be heavy.
Despite the festivities, if you are sensitive, you'll fell the vibe of "divinely invited souls coming down to earth to celebrate with the living". I was wearing a hat all the time just to protect my energy field. And I kid you not, November 4th arrived and the air was clear again and I could breathe freely.
Other than that, it's a great time if you want to reconnect with your own ancestors and clear questions that haven't been answered yet – in meditation, in solitude for a few hours, or in nature, for example.
Oaxaca Day of the Dead Tours 2023
You find a lot of specific Day of the Dead Oaxaca tours on Airbnb Experiences. In the center of Oaxaca there will be tour guides offering tours and history that bring you closer to this Mexican tradition.
I went to an Experience with the indigenous healer Ines in San Augustin Etla, which was for a small, intimate group only, and we all participated in a ritual honoring our ancestors, as well as spending a good time together eating and drinking (lots) of Mezcal afterwards. Remember, Mezcal does not make you tipsy, nor does it give you a hang-over, so you don't even notice how much you drink. 🙂
Find out more about the best Mezcal bars, Oaxacan nightlife and street art while you are there.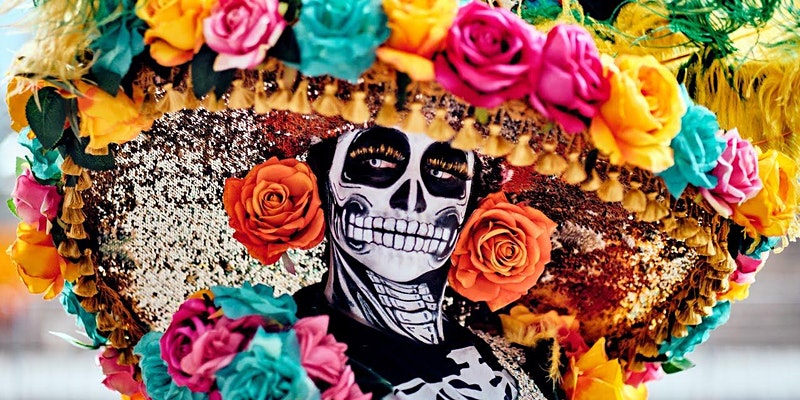 Where to stay in Oaxaca for Day of the Dead?
Since Day of the Dead Festival in Oaxaca is such a big deal in Mexico, not only for foreigners, but also for Mexicans from other regions, hotels, Airbnbs, and hostels are usually booked out one month in advance. If you want to find a place that you are comfortable in, that's in centro, and in walking distance to all the highlights, book early!
The best places to stay are in the colonial-style neighborhoods of Xochimilco and Jalatlaco, since they are not right in the middle of everything, but are really beautiful for food and drink during the day, and some processions are happening right here too. You have to take a taxi at night to get home though (10min drive). Check booking, Airbnb, hostalworld, and Facebook groups (Expats in Oaxaca, Renta Cuarto in Oaxaca, etc.) for your bookings.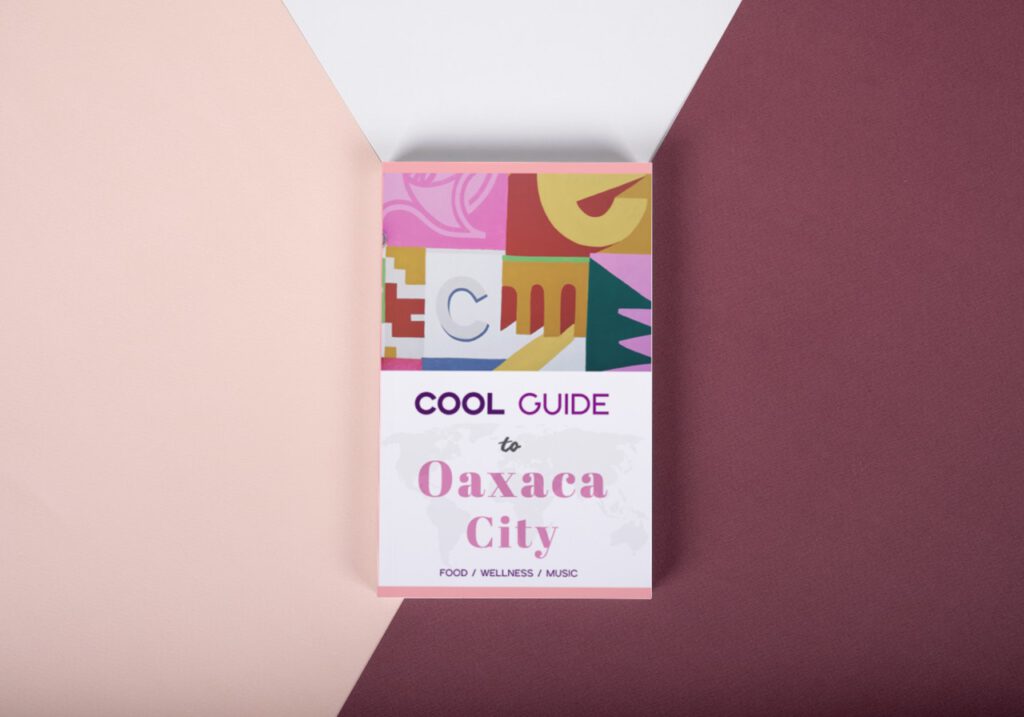 Recap
I hope you'll enjoy one of the best festivals in Oaxaca, the Day of the Dead 2023! Remember to get your face painted in centro, visit the colorful altars throughout the city, attend the many festivities, buy some flowers from local women that will be selling many of them around this time, book yourself a tour for Day of the Dead to learn more about the history, and have a good time!