Oaxaca City, also called Oaxaca de Juárez, is a colorful, traditional, contemporary city in the heart of Mexico, nestled at the foothills of the Sierra Madre mountains. The city is very unique (not just because it's shape on a map looks like an eagle), but also because Oaxaca brings together many different influences like no other place in Mexico.
Find out what to do in Oaxaca City in this Mexico travel guide all about street art, food and cocktails! When I first came to Oaxaca City, I literally knew nothing about the city. The only thing I knew was, that I had to come here first before all other places in Mexico. That's the magic of Oaxaca, calling you from afar.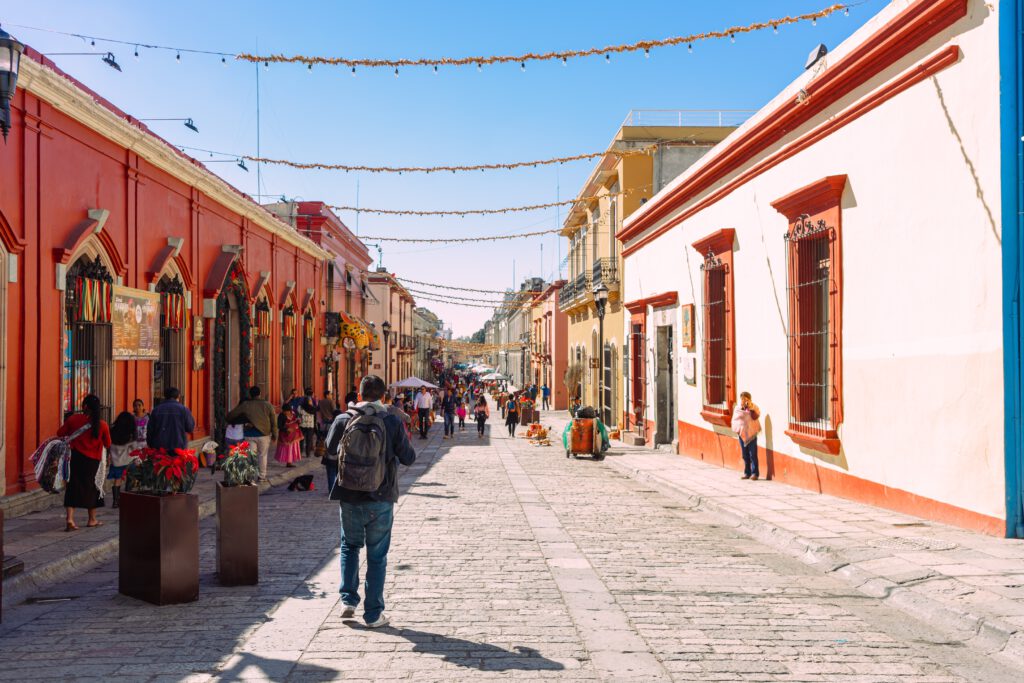 Little did I know that Oaxaca City was fulfilling many of my heart's desires in terms of travel, such as creative, delicious cuisine, amazing art, great cocktails (although I almost never drink), beautiful architecture, inspiring local clothing, and close-by excursions that are beyond what you've experienced so far. This little 715,000 inhabitants town is something else.
Read everything you need to know in this Oaxaca City Guide: A – Z! This essential travel to Mexico guide about Oaxaca will give you all the insider deets you hardly find anywhere else. So you come prepared and can enjoy your time here to the max!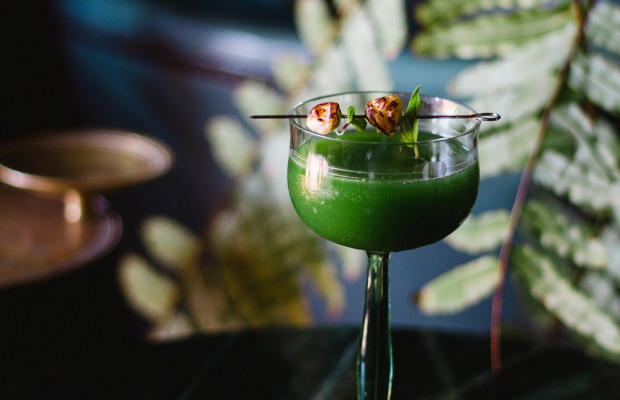 The Best Cocktails in Oaxaca de Juárez
When you come to Oaxaca City you hear the term "mixología" a lot. Since cocktails are not just cocktails, but "mixología" gems. They are an art form. And that's not just a fancy name to lure in American tourist (fair enough), the bartenders truly do some magic behind the bar. I started going out for cocktails just because of this "mixología", although I had not sipped a cocktail in years. And let me tell you, these cocktails don't go into the head and make you tipsy, they go straight into the heart and make you love the whole world. That might be due to the magical Mezcal that's even used for manifestation rituals in Mexico and never gives you a hang-over, or the magical creation that goes into a cocktail. Who knows.
But who would have thought how healing cocktails can be in Oaxaca City?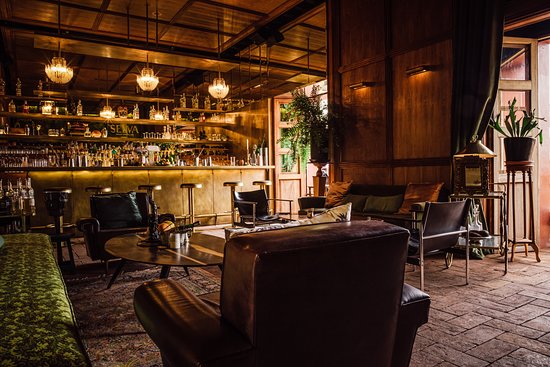 Sit down at SELVA in centro, a cosy, bohemian style bar with suede lounge sofas, dimmed lights, wooden interior and lots of plants in the entry. As part of the famous restaurant Danzantes, this is a royal place to treat your royal feet in. It ranks at place 22 of the 50 best bars in North America! A consierge will point you to your place, once space is available, but I would recommend to always sit at the bar, the first time you come here.
Just because spots are easier available and you can watch the bartenders do their magic. Every cocktail comes with an intricate explanation of the local herbs used for it, the healing properties and the tradition and lore about it. Some drinks literally have a bush of greenery in it, you almost don't see the drink anymore. Other drinks are prepared ritualistically by smudging the glass first with copal, and then filling in the drink. It – is – an – experience! Love it. If I came for just one cocktail, I often went with two or three in the heart.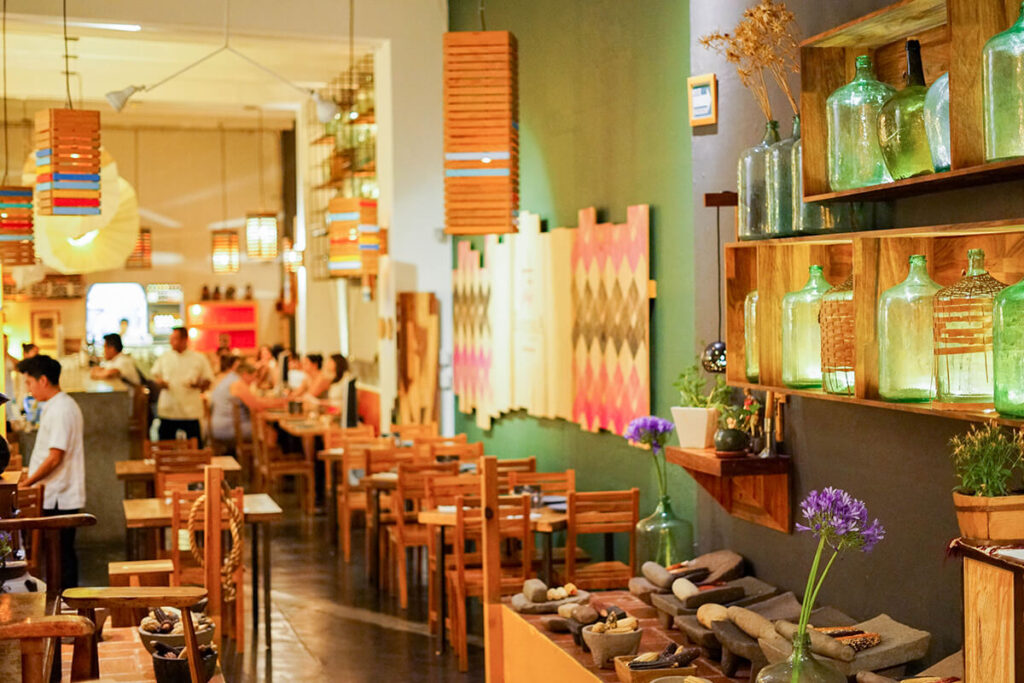 Continue your "mixología" trip at ZANDUNGA in centro, a place painted by local artist Sanez Crak, with outstanding interior design – a mix of beautiful tiles, traditional elements, wood, and straw lamps. Zandunga has hands-down the best guacamole, latin-chill music, service and cocktails in town. Plus – you usually get offered a "cortesía de la casa" when you order, a small dish for tasting, such as a small piece of fish and a piece of cheese. Food seems to be great too, but it has a lot of meat, so I didn't try.
Zandunga's cocktails honor the tradition of the various indigenous tribes of the Oaxaca region, which give the name to many of Zandunga's cocktails. I most loved the Ixtepec, a sour drink with Mezcal, that is served with a burning, smokey piece of cinnamon in it.
The Best Vegan Food in Oaxaca
You probably know that Mexico has a meat consumption that's challenging the status quo of America. But let me tell you, Oaxaca City restaurants – even though they sell you things like grasshoppers in everything from ice cream to cocktails to guacamole – are decent, delicious and delirious. Plus, I found several vegan places, which I frequented regularly, eating myself through the whole menu. And as they say in Spanish: "Panza llena, corazón contento". Belly full, heart full.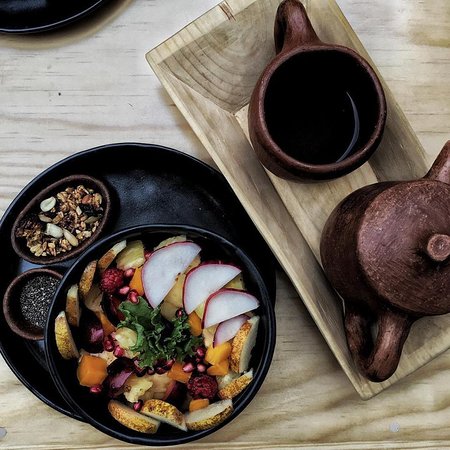 Start at LE CAMPANE in centro, an cosy and hearty restaurant that sells you the most common Mexican and Italian dishes as vegan options, from vegan Tlayudas, to vegan Pozole, to vegan Lasagna, to vegan Spaghetti Bolognese to Vegan Burgers. It – is – a – delight! At very reasonable prices, too. Only cash payments though!
Continue at HIERBA DULCE in centro for small portions, but big taste. Hierba Dulce uses a lot of local and organic ingredients that are especially used in Mexican cuisine, such as cactus, red chili and local herbs. They have a changing menu and will make sure that you get your taste buds delighted. Think of mushroom tacos with pineapple, sourdough burgers with baby potatoes, granola and local fruit, sweet chocolate desserts and a lot of Mexican dishes as vegan options. It's a restaurant located in a beautiful interior patio with super attentive staff working there.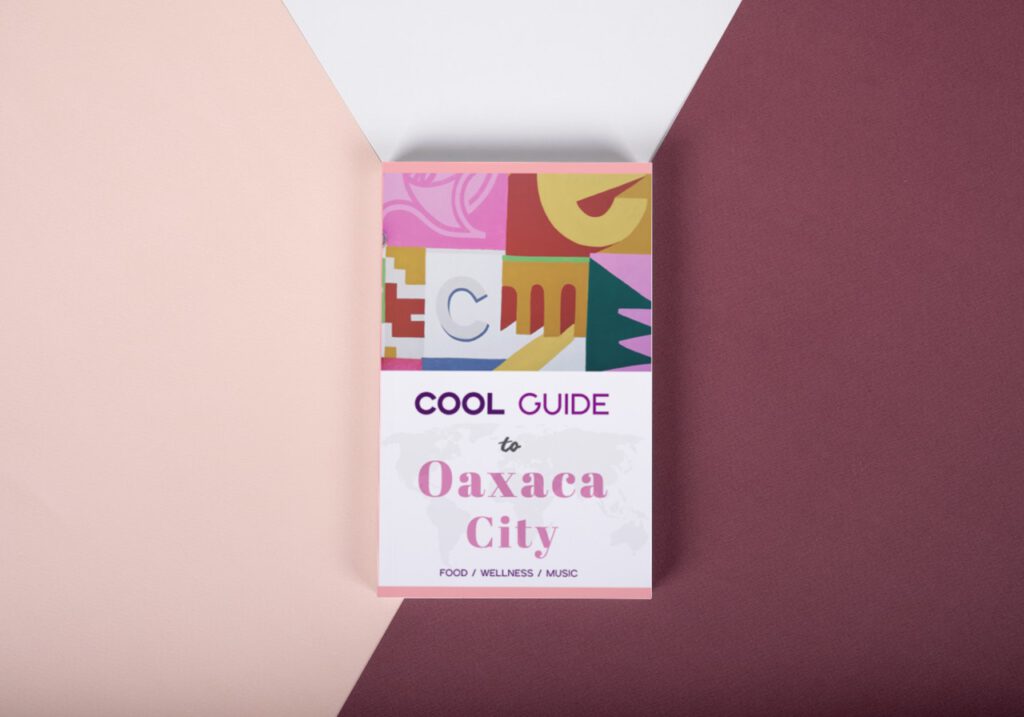 The Best Street Art in Oaxaca City
Oaxaca de Juárez boasts with street art murals everywhere in the city. There are certain streets which turned into art galleries and some restaurants which are an exposition of local talent.
Start in the neighborhood of Xochimilco, Oaxaca City, where you find one mural next to the other on José Lopez Alavez street. It's a sweet neigborhood North of centro with small town houses, cute cafés and a different vibe to centro's busy shopping character. Life is slower here. And art is abundant. Most of the murals change every year around "Día de los Muertos", when lots of international artists flock to Oaxaca City to participate in the artwork. What better to do in Oaxaca City than finding the best murals in town!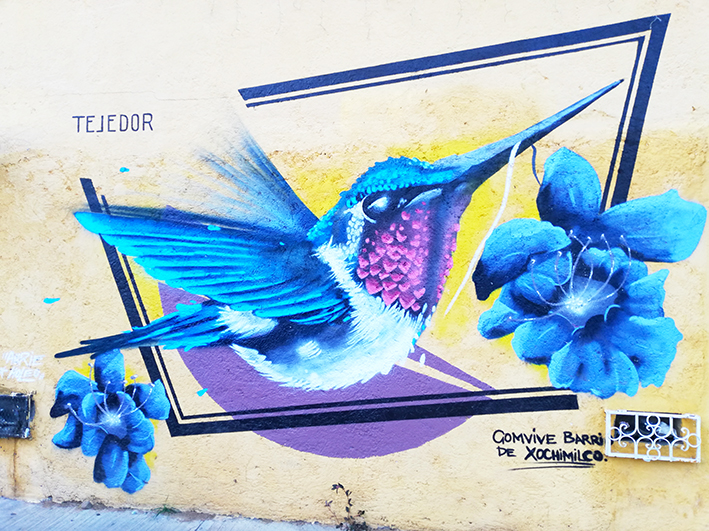 Some of the murals are in tradition with "Día de los Muertos" and depict "La Catrina", the skeleton lady, "Xoloitzcuintli" dogs of the underworld, or hummingbirds, which are seen as messengers of the departed in Mexican tradition. However, international artists bring their own flavour and have painted stunning murals with women's faces, flowers, sculptures or abstract art.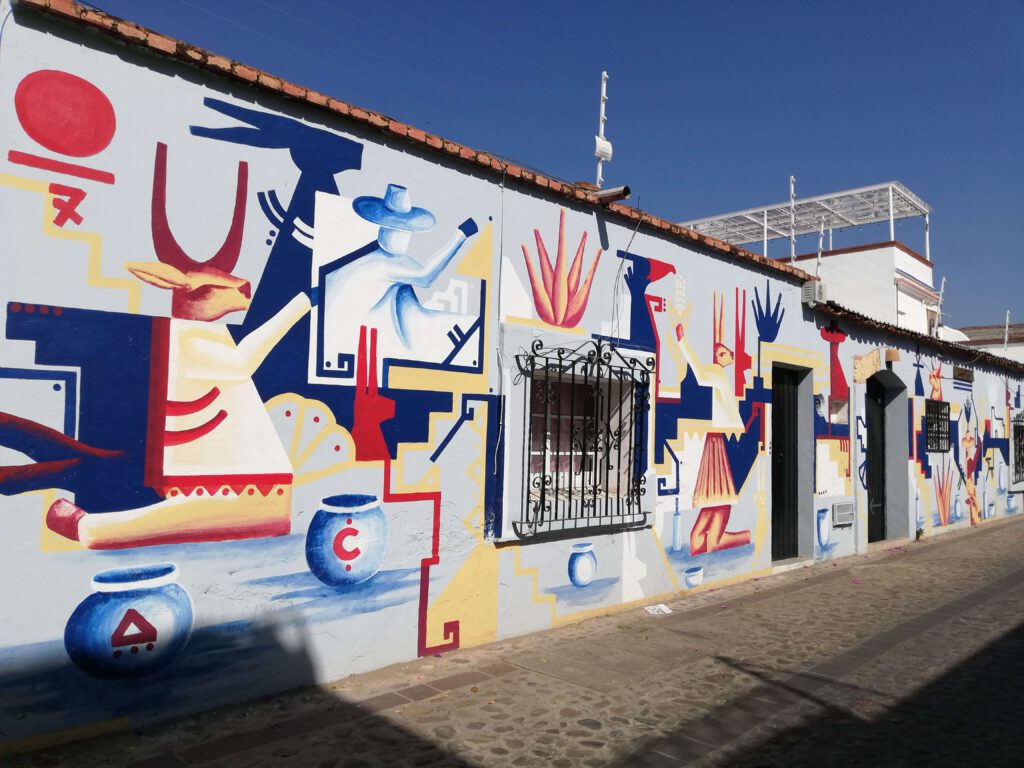 Continue your trip through the neighborhood of Jalatlaco, Oaxaca City, on the right of centro, where you'll find many more murals honoring the LGBTQ community, the Day of the Dead, Mexican women, Mezcal and agave plants, the indigenous culture, and more. It's quite delightful to watch, as you stroll through small, pebble stone streets filled with cafés and restaurants, with colorful flags connecting the roofs of the buildings.
The Best Nightlife in Oaxaca City
Ok, I must admit that the Oaxaca City nightlife was a little deception for me, since the city seems so international and cool, but the nightlife was clearly lacking. Not even that it's hidden, it's simply not considered art here, it seems. However, there are a few places that offer live music (usually cumbia) and a few spots with DJ's.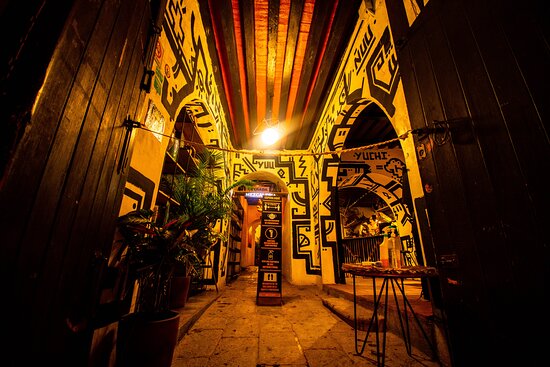 Start your concert evening at the cultural organization LA NUEVA BABEL in centro, where you can enjoy live bands playing cumbia, salsa or jazz every evening starting at 9:30pm. Stop over at MEZONTLE, further down in centro, a totally underrated insider spot with suede lounge chairs, cosy lighting, delicious Koch Mezcal from their own ranch, and live music most nights starting at 9pm! And continue at ARCHIVO MAGUEY, a cool bar that spans over three floors, has a hidden cocktail bar behind a book library, walls painted by Sanez Crak, and cumbia downstairs, as well as DJ upstairs.
Continue your evening at Terazza Bar 777, where you can enjoy house music DJ's every evening from 6pm – midnight, Thursday to Sunday. If it gets late and you want to enter the underground of Oaxaca, head over to Herr Tlacuache in centro, a dark little bar, where there is DJ's (house, techno, and dark variations of both) till the wee hours in the morning every Thursday to Saturday. Just make sure to get a taxi via DiDi or a local taxi of which you have a number, when you go home late night / early morning (ask yourself: Is Oaxaca City safe at night?). Check out more about this in 9 Essential Things to know when coming to Mexico.
---
I hope this Mexico travel guide through Oaxaca de Juárez, the city of street art, food and cocktails, gave you a taste of what magic to expect here, and a desire to explore more!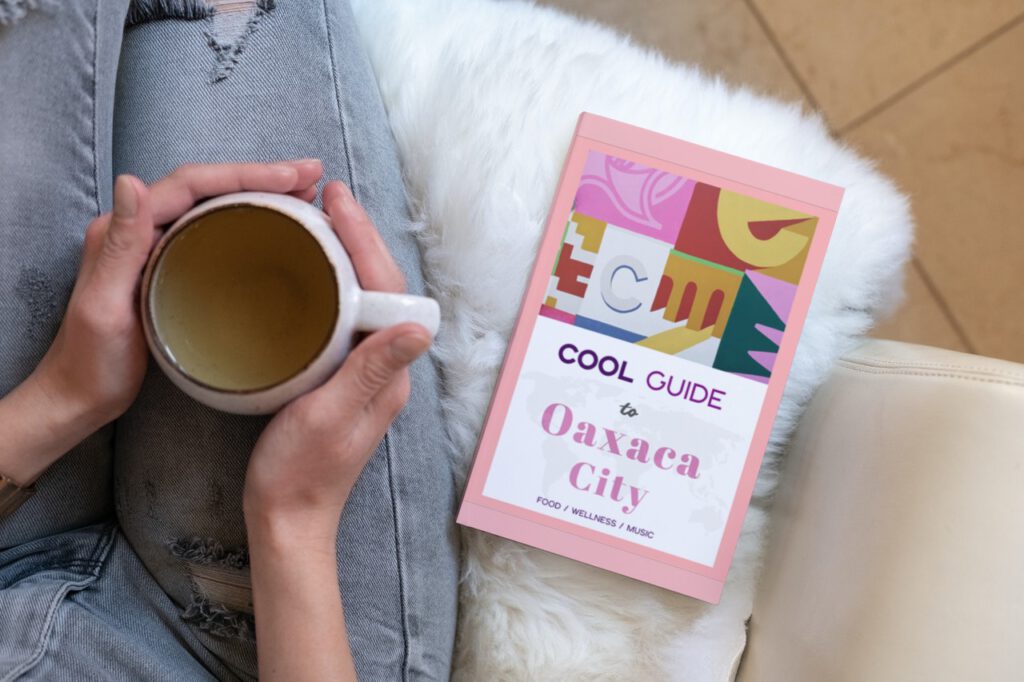 ---
The Best Festivals in Oaxaca: Day of the Dead 2023
Is Oaxaca City Safe to Travel?