Puerto Escondido has a lot to offer in terms of nightlife. There are parties almost every day of the week, and more and more bars add a DJ line-up to their early evenings or late-nights. However, not every night club is great, and you want to avoid the touristy lets-get-drunk-fast places that play reaggaeton all night long, one louder than the other, which ends in an cacophony of noise.
That's why in this article I'll tell you all about the 3 best beach clubs in Puerto Escondido, so you know where to dance under the stars!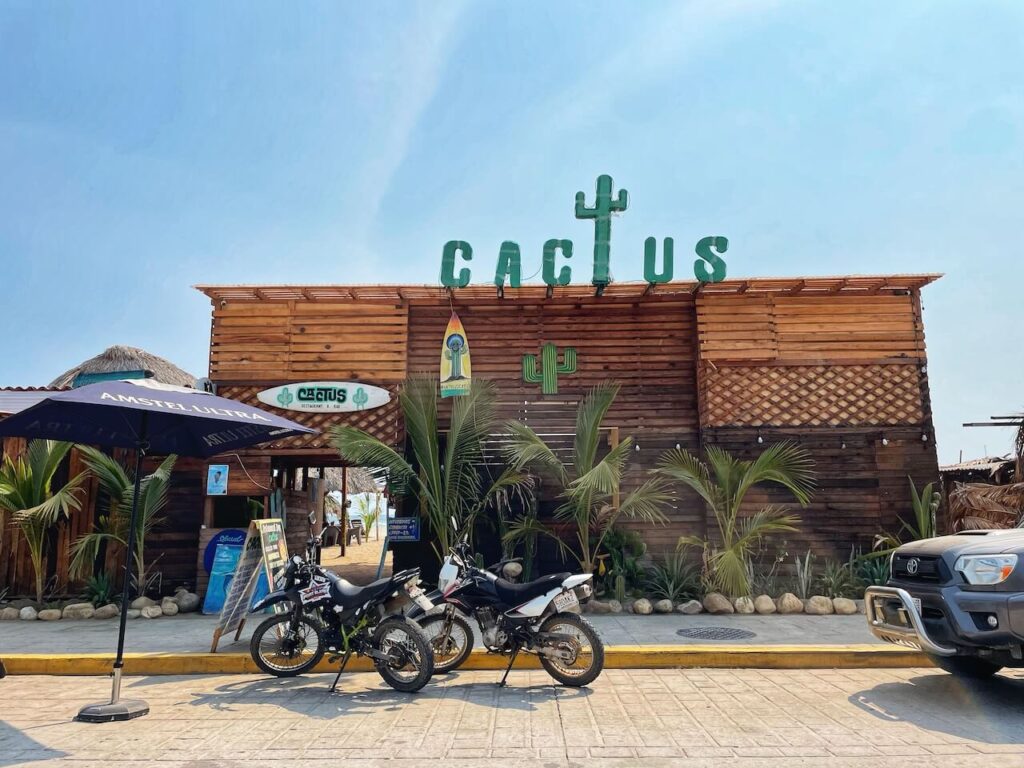 Cactus Beach Club
I stumbled upon Cactus the first day I arrived in Puerto and only have good memories about it. Cactus reminds me of Berlin's wooden, self-made with love optic, and just like in Berlin, keeps improving and improving. It used to have the DJ booth to the side, where now a small beer-bar is, which shifted, so that the now the DJ's are prominent up on a stage, the lighting is impeccable, and the decoration makes it really cosy. Since it's a beach club, you dance with your feet in the sand. There is often a fire show and some dancers.
The vibe is international, lots of young tourists come here, but what can I say, the crowd is sexy. Not to mention the music, which is even sexier, since the residents Heck and dBasser play some unique House, Tech House, Afro House and interesting 80's remixes. They often bring amazing guest DJ's, such as Aaron Sevilla or European DJ's on tour. Their best known night is Blue Monday in Mondays, but I've been any of the opening days and had so many nights here. I often thought I'll go early and leave early, but ended up staying till the very end.
Entry: free before midnight, after that 100-150 pesos. Party starts to be busy around 1am and closes at 5am.
Parties: Thursday – Monday
Music: House / Afrohouse / Tech House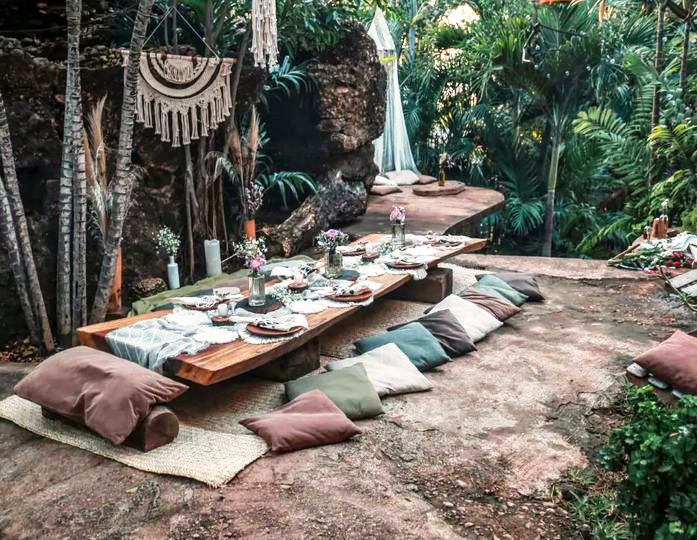 Mar & Wana
Just opposite from Cactus, but a little hidden in a small dust path, lies Mar & Wana. Primarily a restaurant and food court with different culinary options, as well as cocktails, Mar and Wana is a jungle escape in the hustle and bustle of Puerto. It's beautifully decorated with macramé hangers everywhere, hidden wooden platforms amongst the trees, long tables amidst greenery, and a truly bohéme feel. At the week-ends, Mar and Wana often transforms into a club with DJ's playing until the early morning hours. You'll hear everything from House to Reggaeton, Hip Hop and beyond. It depends on the organizers which music will be on.
Entry: free before midnight, after that 100-150 pesos. Party starts to be busy around 1am and closes at 5am.
Parties: Thursday – Sunday, occasionally on other days for one-off events
Music: House / HipHop / Reggaeton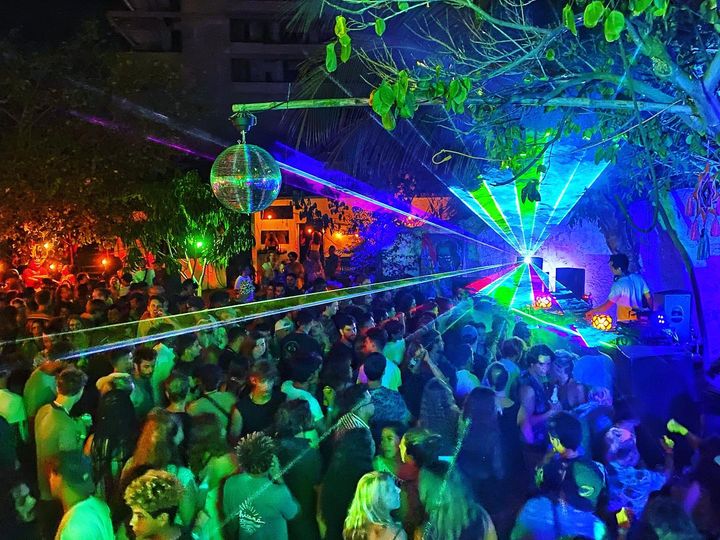 Piedra de la Iguana
Piedra de la Iguana is in the the same corner of Cactus Beach Club and Mar & Wana, situated just before Mar & Wana and opposite from Cactus beach Club. It's usually open from 10 or 11pm, sometimes earlier, but don't expect anybody to be there that early. Puerto's crowd knows Piedra de la Iguana as the afterhour spot, the place where you go when all bars & clubs close, and the party still goes on and on and on. Afterwards you'll drop by El Cafécito down the road to get your early morning croissant and a coffee. Piedra de la Iguana got the afterhour vibes, so the clientele can be funky when it gets crowded. But – they have a fire pit, a hidden deck on top of some rocks, a big bar in the middle, and an interesting selection of electronic music. Expect anything from Downtempo, to House, to Dark Electro, Techno, spacy EDM, and who knows what here. Sometimes there is even a barbecue on site.
Entry: free all night long. Party starts to be busy around 3am and closes 7ish.
Parties: Thursday – Sunday
Music: All colors of electronic music
I hope the article about the 3 best beach clubs in Puerto Escondido helped you to get your week-end sorted! There are, of course, more clubs (on the beach and indoors), salsa parties, reggeaton parties, bars with DJs and occasional ecstatic dances in Puerto Escondido.
---
To get your hands on the full list of places and events happening around town, get our Cool Guide to Puerto Escondido quickly at Amazon. Find out about the best Food, Wellness and Music in this magical place! And if you are planning a trip to Oaxaca City too, we've got you covered!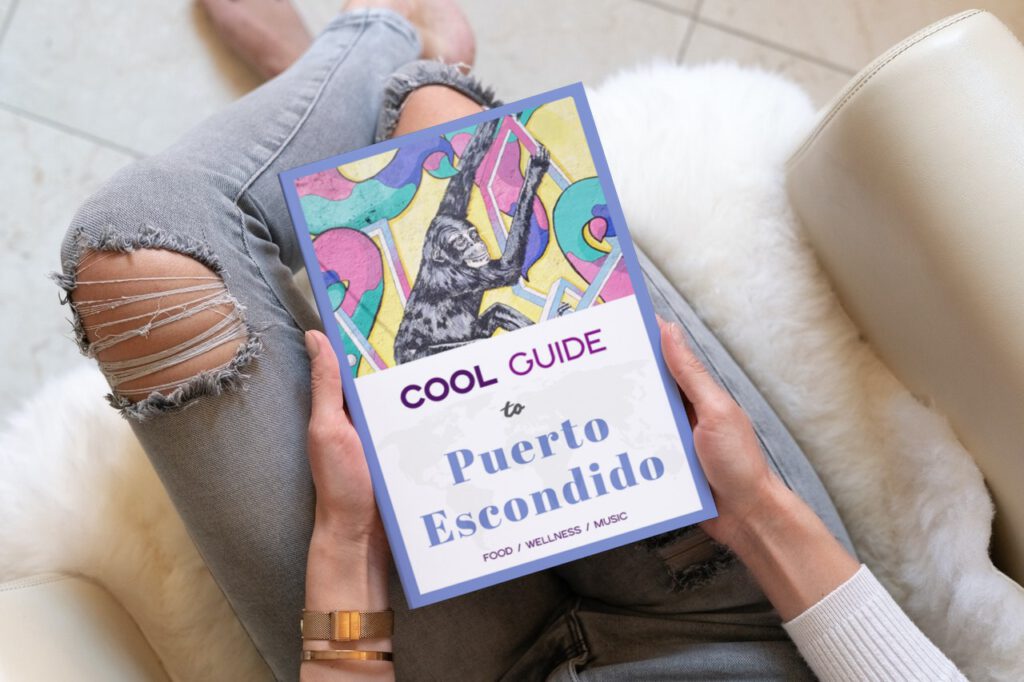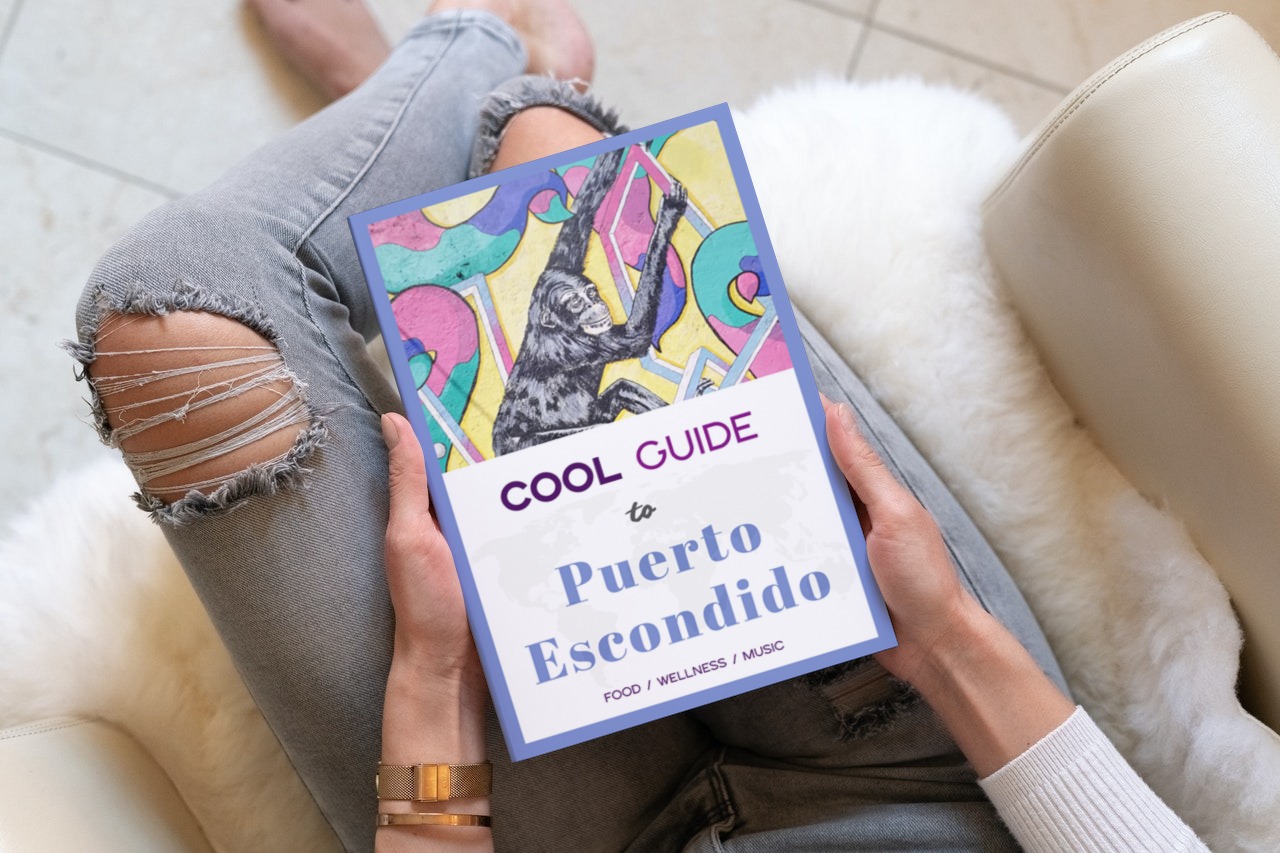 The 5 Best Yoga Studios in Puerto Escondido in 2023
How to Get from Oaxaca to Puerto Escondido 2023?