Oaxaca City is one of the few places in Mexico that will delight your taste buds from morning till evening with a multitude of flavors, from traditional and never tasted before, to outrageously good creations of well-known dishes, to unique fusion food that is simply only to be found in Oaxaca City.
But what makes a great meal great, if not the best cocktails in Oaxaca that come along with it? Or the trip to the secret bar after a great meal, instead of having a desert. Next to being a culinary destination, Oaxaca also has a long standing tradition of mixología – cocktail crafting at its best!
While some bars in Oaxaca are just soso, some are really that good, that you will become a cocktail connoisseur only because of that bar! At least that happened to me. When I usually drink, I ended up ordering two or three just to taste them all – and to savour the feeling that came along with drinking them.
While alcohol usually makes you drunk, Oaxaca's mixología has something about it that you end up feeling heart-open and loving towards the whole world, instead of drunk in the head. So here comes your guide to the best cocktails in Oaxaca!
1. Selva Oaxaca
Macedonio Alcalá 403-int. 6, Oaxaca Centro
Sun – Wed 6pm – 11:45pm, Thu – Sat 7pm – 1:45am
As part of Danzantes Group, one of the most prestigious restaurants in town, Selva is a cocktail club with extraordinarily comfy sofas and sofa chairs, a delightful menu of cocktails and home-made snacks that honor the tradition of Oaxaca. It's really one of the places with the absolutely best cocktails in Oaxaca. Every cocktail has a story and is not only based on the best alcohol, but also on the healing tradition of Oaxacan spices and herbs. Antioxidant comes with a bouquet of greenery in the glass & Apéritif is smudged with copal first, before the drink is filled in, for example. It's an experience well worth the higher prices. The bartenders are very eager to explain their craft, too!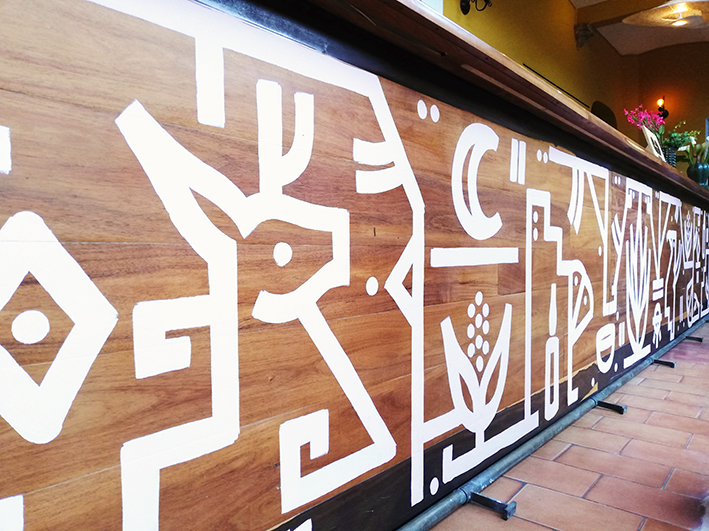 2. Zandunga Sabor Istmeño
Manuel García Vigil 512-E, Oaxaca Centro
Mon – Sun 12pm – 10:30pm
Neatly designed concept, restaurant, and bar, with a creative Oaxacan mural on the entry, a painted bar and the best of Oaxacan's cuisine. They offer unique Zapotec Mezcal cocktails, plus a wide range of Mezcal shots. Their food is outstanding. The music is always spot on Latin influenced chill, sometimes live, and their inner patio invites meeting up for a daytime drink, too. If you are lucky, you are offered a cortesia de la casa when ordering a Guacamole (the best in town!!!) and a drink. In high-season, the place gets quite packed, so either reserve or come early.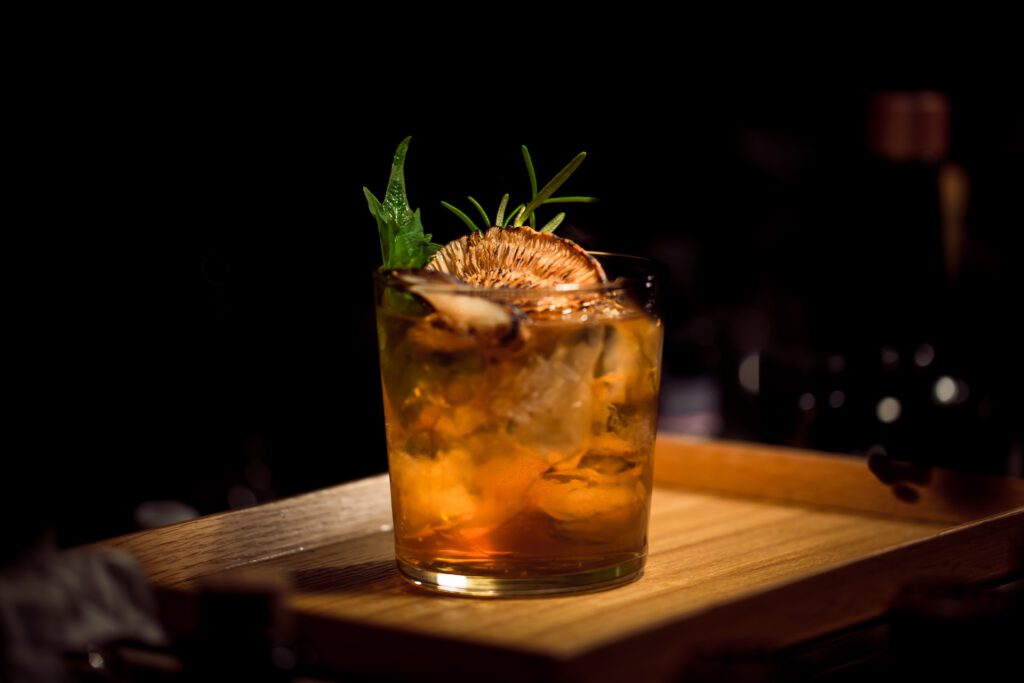 3. Mezcalogía
Manuel García Vigil 509, Oaxaca Centro
Tue – Sun 3pm – 10pm, Monday closed
Secret, not so secret, Mezcal bar right in the center of Oaxaca City. It's a tiny and cozy spot with some of the best cocktails in Oaxaca, great Mezcal shots, and a unique vibe. Come early to get a spot, since they only have three tables and the bar. Live music or the occasional DJ set are on for the weekends, plus they tend to stay open longer than announced (but also for this, come early).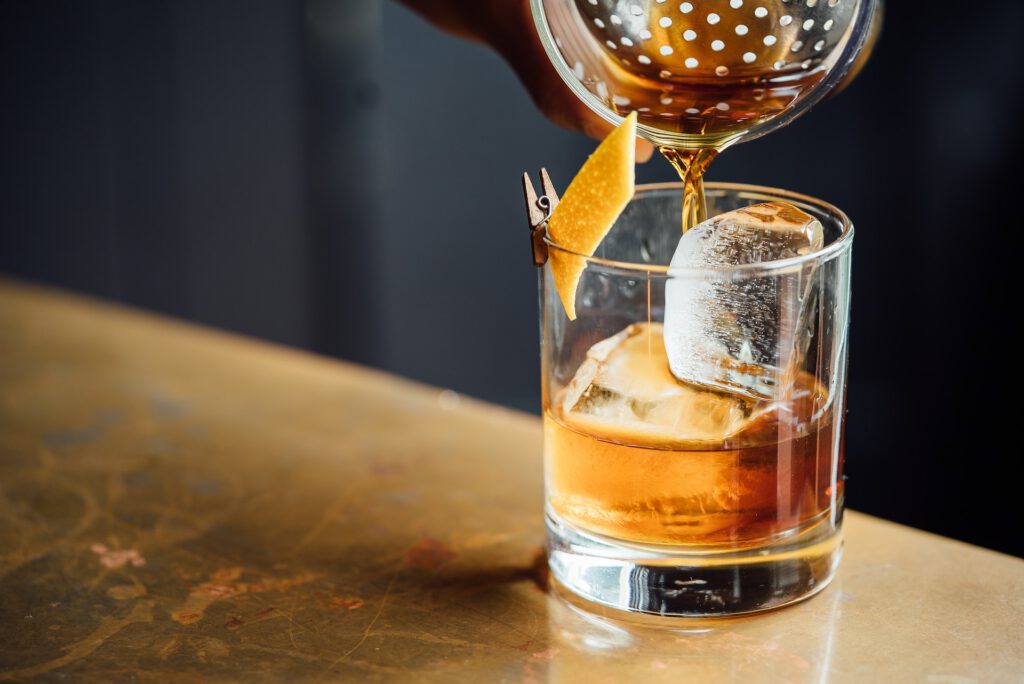 4. Baltazar I Tetelas & Mezcal por Olga Cabrera
Jesús Carranza 113, Oaxaca Centro
Mon – Sat 8am – 11pm, Sunday 10am – 5pm
Baltazar in Oaxaca has a big interior space, a patio, and a showroom for Mezcal tastings. It serves as a café during the day with delicious sweet and salty options with splendid presentation, and a restaurant with stellar food and Mezcalería at night. Their cocktails are worth a try, too! It's simply a pleasant place to be at and have a unique food and drinks experience! Occasionally live music at the weekends.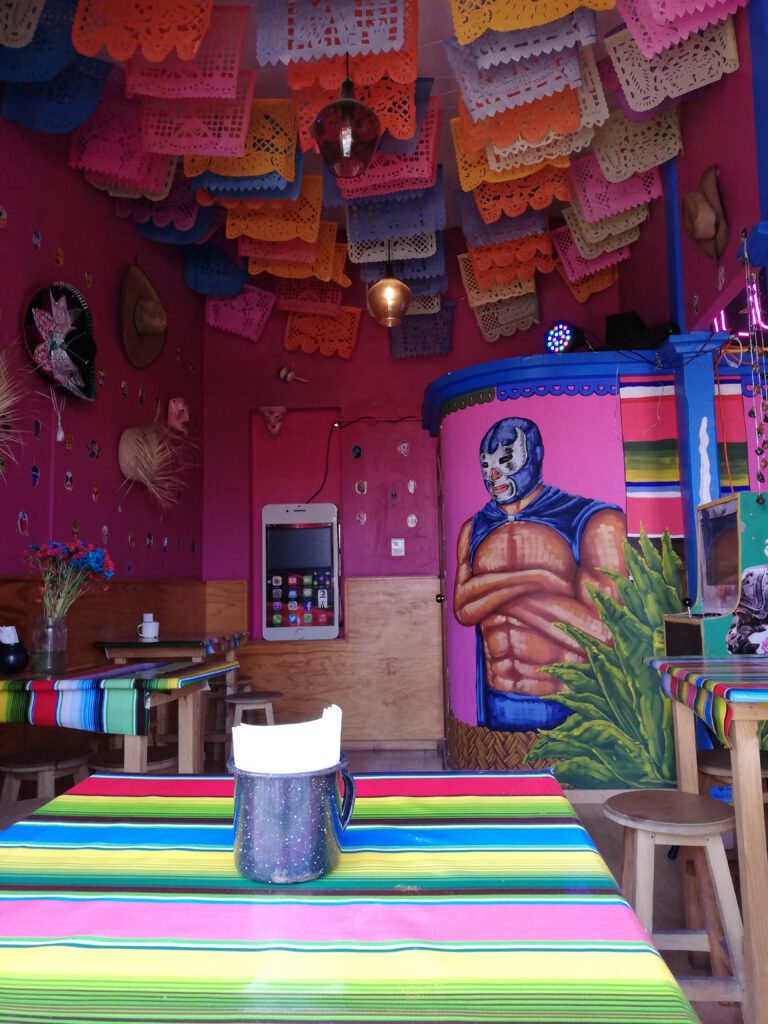 5. Pulquería Mayahuel
Porfirio Díaz 907, Oaxaca Centro
Wed – Mon 11am – 11pm, Tuesday closed
This pulquería is a great, small Mexican style joint close to the Mercado Sanchez Pascua that's worth a visit, just because of their pink walls and lucha libre paintings on it. Best place in town to start your pulque journey (it's made of agave, like Mezcal, but is a fermented drink). They take their recipes seriously, change flavors every three days, and are eager to explain to you all about their creations! Pulque comes with fruity options, such as guava, pineapple or berries. And – you can play songs on the jukebox! Of course this joint needed to be in the list of the best cocktail bars in Oaxaca. 🙂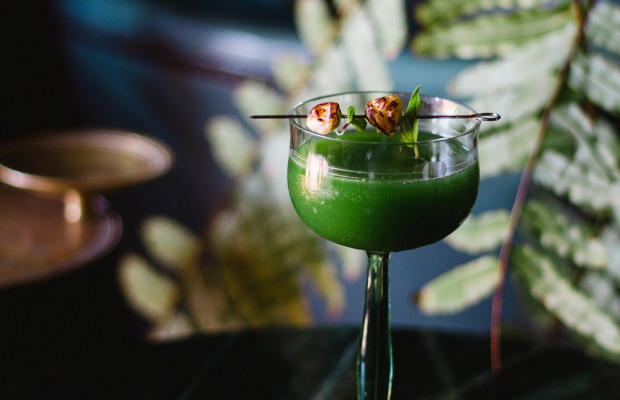 6. Puro Burro Camiloña – Mezcalería
Calle Ignacio Allende 211, Oaxaca Centro
Tue – Sun 3pm – 12am, Monday closed
Hip rooftop bar in the center of Oaxaca with a uniquely creative presentation of the dishes, a wide selection of the best Mezcal brands and contemporary, creative cocktails. A music and people filled lower level, plus a chilled and quieter upper level rooftop terrace. Check them out!
7. The View Rooftop
Calle de la Cruz 7, San Felipe del Agua
Fri / Sat 2pm – 10pm, Sunday 11am – 7pm
This fancy rooftop bar sits on top of Flavia Hotel, an upscale boho heaven and the sister hotel to infamous gay party hotel NAKED in Zipolite, at the coast of Oaxaca. The rooftop bar offers diverse cocktails and local Mezcal brands, sunset evenings on Friday, DJ sessions on Saturday and Sunday a sumptuous brunch buffet with all you can eat (fruits, pancakes, mini toasts, granola, veggie sticks, local ham and cheese…) with 4 drinks included for 800 pesos.
So now go out and get drunk, enjoy the fresh Mexican mixología, and the best cocktails in Oaxaca!
And don't forget to eat well, too, so here is a list of the best places to eat in Oaxaca City!
---