Oaxaca is in full swing with its preparations for Day of the Dead 2023. The festivities are nothing less than astonishing, an explosion of colors, smells, and rituals everywhere you look. To give you a comprehensive overview, I compiled the ultimate guide to the best activities in Oaxaca for the Day of the Dead 2023.
Best Airport Transport to Oaxaca City
If you are coming from Mexico City, you can either take an overnight bus or a short 45-minute flight to Oaxaca City. Most international flights land in Mexico City (CDMX) or Cancún.
The small airport of Oaxaca is not far from the city center. Upon arrival, you will find a counter at the entrance hall. There you can book a collective minivan for 5 USD, or a taxi for around 20-30 USD that brings you straight to town.
In case you want to take a taxi, better book beforehand with your hotel. Taxi drivers in Oaxaca can be a hit or miss. I never had any problem with them, but just know you are in Mexico and some people are dodgy. In general, it makes sense to have a number of taxi drivers for day trips and night trips at hand. Ask your accommodation for this.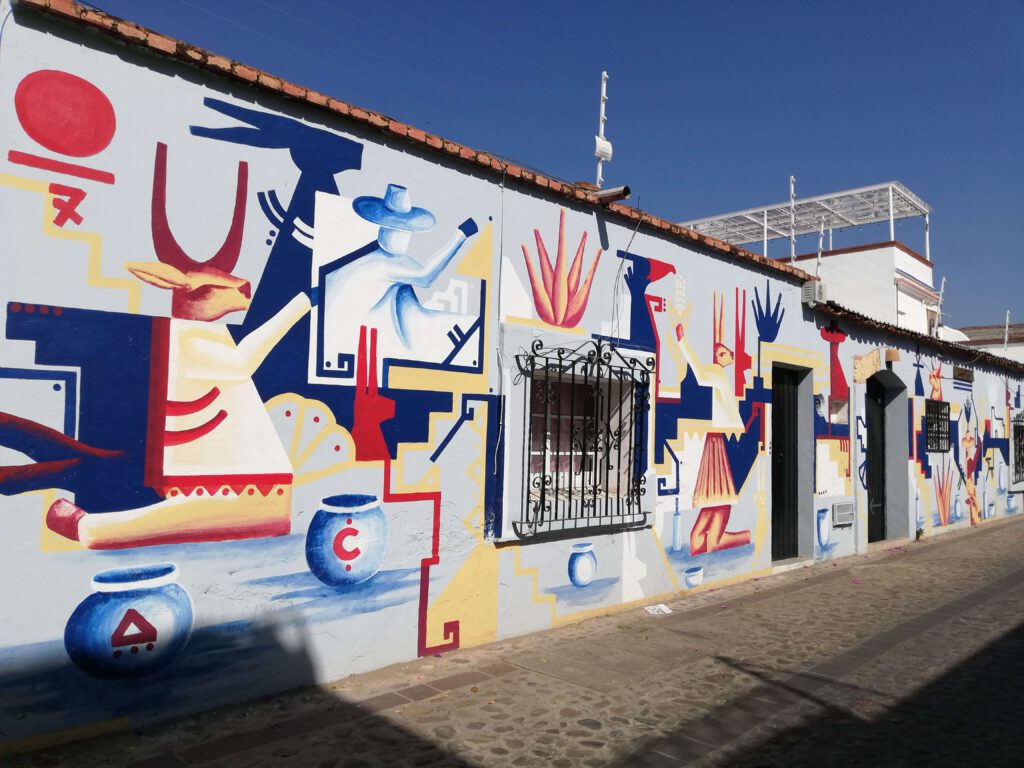 Best Barrios of Oaxaca City to Stay for Day of the Dead 2023
Oaxaca City is relatively small and you can easily explore it on foot. The best neighborhoods in Oaxaca to stay in while enjoying the celebrations, are Centro, Jalatlaco, Xochimilco, and Reforma.
Centro is the beautiful, colorful town center with all the shops, restaurants, and parades. You'll be right in the action here, all day every day.
Jalatlaco is more towards the East of Centro. An equally colorful, cute neighborhood with colonial-style buildings, lots of street art, and colorful flags between the buildings. You can easily walk to Centro from here. At night make sure to take a taxi, even if you are relatively close.
Xochimilco is one of my absolute favorite neighborhoods. Such a serene energy with just a few streets, but all of them are painted with stunning murals. You also have a few unique cafés and restaurants here, which are all worth a try. Centro is easily walkable from here, it's North of the hustle and bustle. At night – just in case – take a taxi.
Reforma is a to the East of Xochimilco, and a more modern neighborhood. You have big supermarkets, like Chedraui here, as well as a mall. The streets are wider, the restaurants a little more fancy. If you stay here and don't want to walk excessively, get yourself a bicycle or expect to take cap rides more often.
Check out my Cool Guide to Oaxaca City for a recommendation of four amazing places to stay. It also contains the best restaurants, wellness activities and spas, live music, cocktails, and traditional workshops.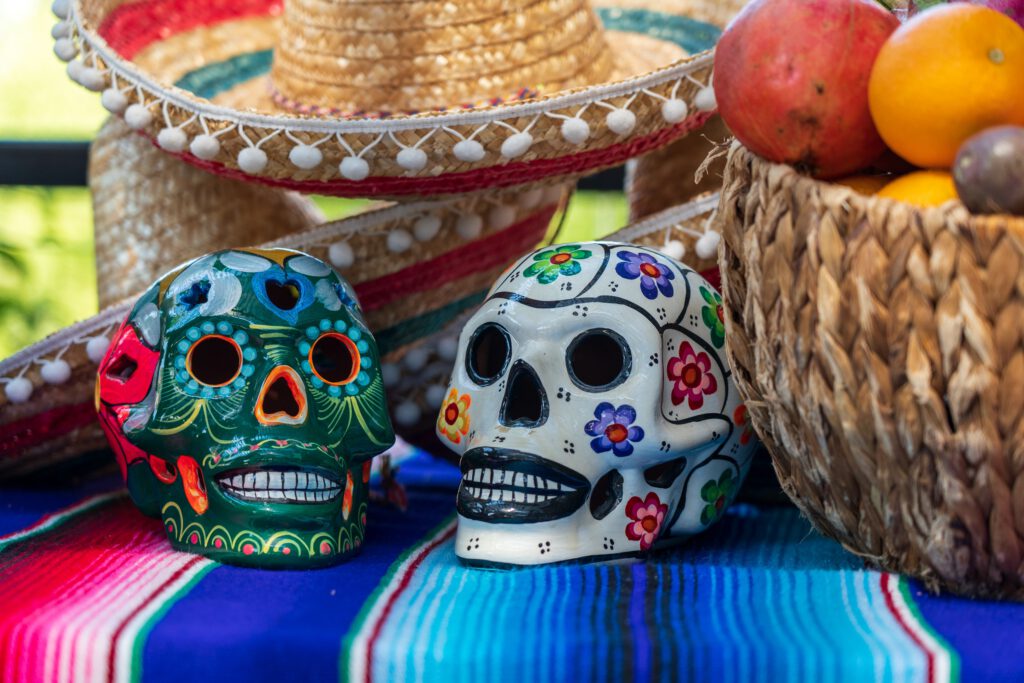 What to expect in Oaxaca City on Day of the Dead?
You'll see that Oaxaca City is the best place to spend your Day of the Dead experience in Mexico. Other cities celebrate this indigenous, ancient festival, too. But nothing compared to the energy and preparation that Oaxaca brings to the "altar".
While funerals and anything related to death is not something associated with celebration in the West, Mexicans truly turn this story on the "colorful skull".
You'll see painted skulls everywhere on clothing, sombreros, and as sweets. People paint their faces as catrinas (the famous Mexican skull lady), wear skeleton dresses, and parade dressed up with Day of the Dead make-up through the streets.
You'll not pass a single alley without finding a huge altar set up, even in shops. Many make-up artists will show you pictures of their craft on the street corners. Special festivities, such as poetic Day of the Dead events, take place throughout the city. It's a blast.
No matter, if you come with a plan to Oaxaca City, or you don't, you'll be part of the celebration either way. I recommend joining MexNomads WhatsApp groups for Oaxaca, to be aware of everything small and big happening in town at that time.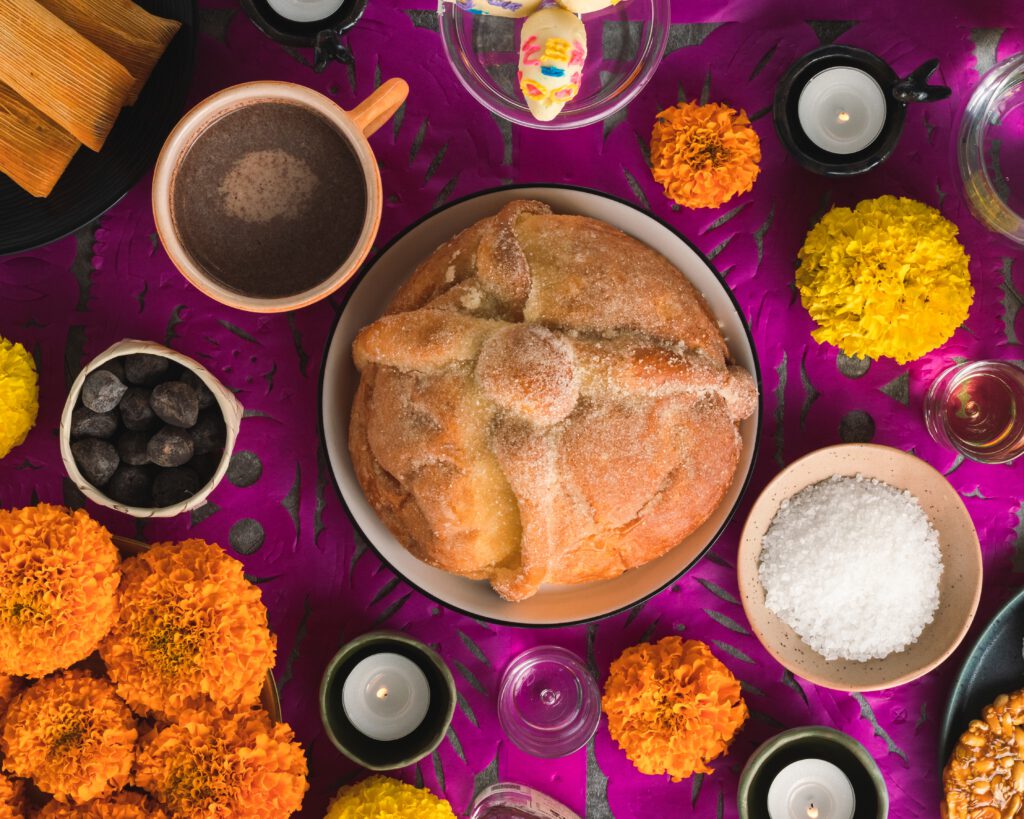 What do Mexicans place on an Altar for Día de los Muertos?
Each family sets up their own altar with Mezcal, sometimes beer, marigold flowers, candles, pan de muertos bread, sweets, cacao, water, and pictures of their loved ones. In pre-Hispanic Mexican traditions, it is believed that the deceased ones can only visit their family on the window of the Day of the Dead – between October 31 and November 2. So great care is being taken to celebrate and commemorate.
The food on an altar serves to recharge the batteries of the traveling Souls and to give them fuel for their way back. In Mexican indigenous traditions, it's custom that food and items are buried with the dead, to make their journey through the underworld safer.
Special Events to Join on Day of the Dead 2023 in Oaxaca City
AirBnB Experiences, local tour guide companies, and tour operators, such as Viator, are a great way to find unique festivities, run by locals, but in English.
• Take a Guided Walking Tour to see the local traditions and experience as much as possible from the festivities in Oaxaca City. It will show you the most beautifully decorated streets, brings you to a cemetery where locals commemorate their loved ones, and ends in a small church in Xochimilco neighborhood, with a celebration and altar decoration.
• Join a Day of the Dead Ritual by healer Ines in Santa María del Tule, who welcomes foreigners and locals alike. You can choose between any day of October 31, November 1, and November 2, according to availability. She is a trained curandera – healer – from a lineage of Mixtec healers and offers personalized healing sessions as well as workshops. You'll get to her house in 30-40 minutes from Oaxaca City by taxi.
When you join the ritual with Ines, you'll be able to commemorate your own loved ones, connect with them in meditation, and wish them well. Afterward, to bring the joy back in the true Day of the Dead tradition, there is a lot of Mezcal tasting involved. We had a blast and continued with even more tastings in Oaxaca City :).
• Take a Day-Tour to San Agustin de Etla to see one of the most unique and craziest muerteadas – Day of the Dead celebrations. Start in San Gabriel de Etla with a visit to a host family, spend time cutting marigold flowers on a flower field for the altar, set up an altar with your group, visit the local parade, and move on to San Agustin de Etla, where the wildest and craziest night-time celebration takes place. Shortly after midnight, you'll be brought back to Oaxaca. Stay close to your group since at night there will be hardly any taxis to take you back on your own. Everyone is celebrating!
• Join an immersive multi-disciplinary audio-visual experience that celebrates life, and spirituality, which allows you to experience an all-sensory event. You'll be led through different installations, performances, and connections in an ancient building merging the visible with the invisible. While this event is on all year round, it's especially spectacular for Day of the Dead.
For events in and around the city, visit the tourist booth at the Zocalo, the main square. You'll also find a huge altar on display there.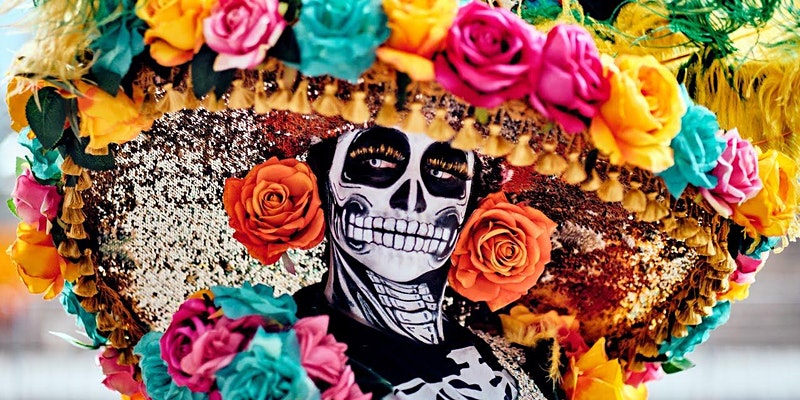 Which Cemetary to Visit for Day of the Dead in Oaxaca?
I find this a little touchy subject. Day of the Dead is celebrated by the locals to commemorate their passed-away family members, not to create a show for foreigners. So when it comes to visiting a cemetery, such as the Panteon General, be extra careful to check in, if locals are open to receiving you there.
However, visiting the local cemetery and spending lots of time on it is part of the Mexican tradition for Dia de los Muertos. Families set up shop with candles, food for their loved ones, blankets, and chairs, to spend a whole night there.
***Disclaimer: As a shamanic practitioner I need to inform you that inviting a lot of dead souls to come down to earth can result in you being a literal beacon of light (and life force energy) for them. Which means they can attach to you, making you feel drained, tired, angry, and out of place. It's one part of the tradition that I see as very critical since other types of spirits can come to create havoc, too.
I spoke to a taxi driver about less-than-normal occurrences during the festivities, and he confirmed that many car accidents happen. This might be due to the increase in drinking Mezcal, too. Some taxi drivers tell the stories of having carried a ghost from point A to point B, who suddenly disappeared. I recommend wearing a sombrero at all times, and consciously cleansing yourself with salt in the shower releasing everything that does not belong to you.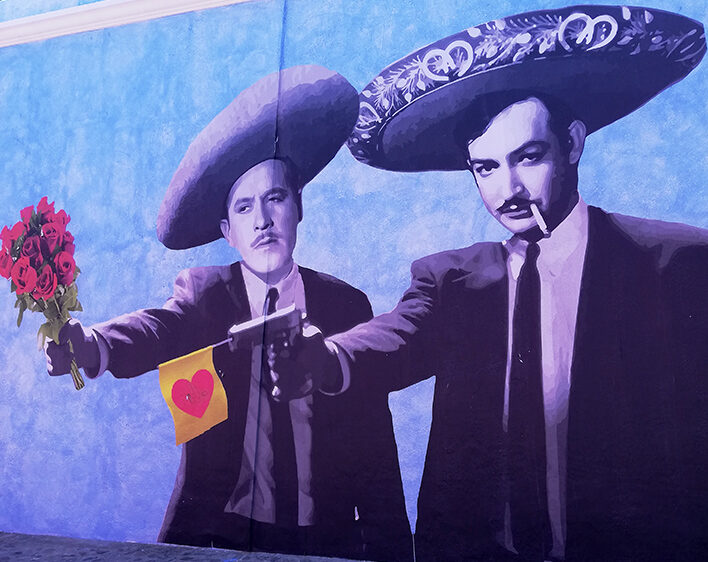 What else to do in Oaxaca on Day of the Dead?
Oaxaca City is known as the food and cultural capital of Mexico. You'll notice from the first moment that you arrive that the city is unique in its beautiful architecture, interior design, amazing restaurants, and cocktail bars. The state of Oaxaca is also known for its delicious coffee and cacao production, which you can taste in many cute cafés.
Spend some time exploring the city's food and drink culture, from hand-crafted beers to vegan and organic restaurants, to cacao-making workshops, hand-stitching clothing designs, pottery classes, colorful wooden figurine paintings, traditional fashion design, and more.
You can even spend a few days just exploring the street art and the huge murals everywhere!
And – if you have more time on your hands, after the festivities are over, take a trip down to the coast to visit Puerto Escondido, the laid-back and cool surfers town with parties, fitness, yoga, and dolphin watching.
---
I hope you enjoyed this "Day of the Dead: Ultimate Guide to the Best Activities in Oaxaca" and will have a splendid time in this wonderful town. There are new restaurants and cafés popping up everywhere, and you can truly fill your tastebuds with a plethora of delights!
To maximize your time in Oaxaca and not waste time searching for the right café with Wi-Fi, the best Oaxacan coffee, the coolest workshops, the most delicious dinner, and the ultimate rooftop, buy my Cool Guide to Oaxaca City with all the best food, wellness, and music in Oaxaca City.