Mexico City is a 20 Million Megapolis that could feel huge, but actually feels small at times, because of its cute neighborhoods. There is, of course, parts where skyscrapers make you feel like an ant and you feel like you anted up in New York. But then there are also small neighborhoods, which you cross within an hour by foot. They still bear some of the ancient art nouveau 2-floor-buildings with stucco as well as art-deco apartment blocks, are filled with creative cafés, galleries, fashion shops and small parks, and people who walk their dogs (literally everywhere).
La Condesa and Roma Norte are two of them! Loved among expats and locals alike, they are the more expensive places to live in the heart of Mexico City, because they are just filled with so much of the good stuff! Visually, tastefully and sensually! Both neighborhoods are to the left and right of Parque Mexico, where you find fitness, skateboard and salsa classes, tarot sessions, a dog-training area and lots of hidden benches among the abundant green.
Since it will take me a while to compile a decent Mexico travel guide about the whole city, such as the one I did for Oaxaca City and Puerto Escondido (mind you these places are so much smaller!), let's focus on the cool parts in La Condesa & Roma first!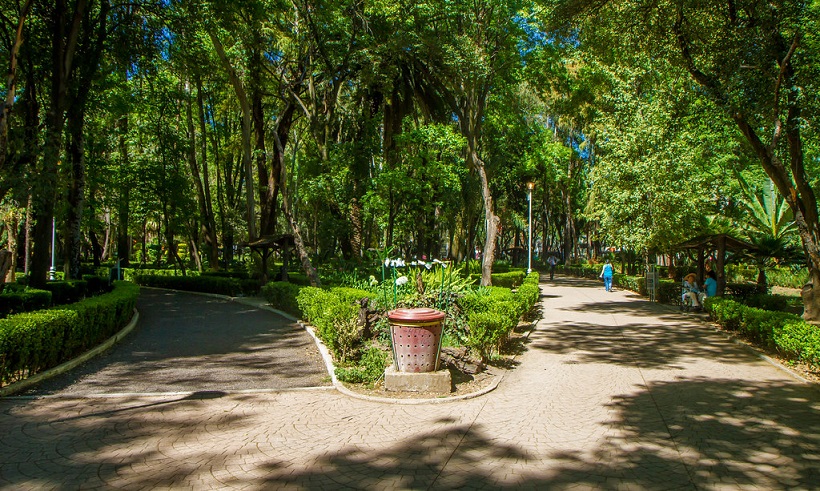 The Best Wellness Centres in Mexico City, La Condesa & Roma
Even though La Condesa and Roma, respectively, are just a few kilometres in total, like ten blocks up and a few to the left each, they are packed with offers. Some of the best Wellness Centres here are:
Amsterdam 43, Hipódromo Condesa, Cuauhtémoc, 06100 Ciudad de México, CDMX
I love this space. Vitali has a hippie-like interior, origami hanging from the roof, a lounge area to relax with a Makramé hanging chair, plants and bamboo, and a stellar relaxing soundtrack ranging from Afro music, to ambient, to mantras, never too much, never too boring, never the same.
They offer a wide range of massages (the facial is well relaxing!), an infrared Sauna (individual sessions of 30 minutes with the Sauna to yourself cost $200 pesos), and a few lounge chairs before you enter your session to sip on a herbal tea.
Next to the Spa is a little organic cosmetics shop with just the essentials of herbal balms, shampoos, teas, soaps and lotions.
Book in advance to make sure you get a spot.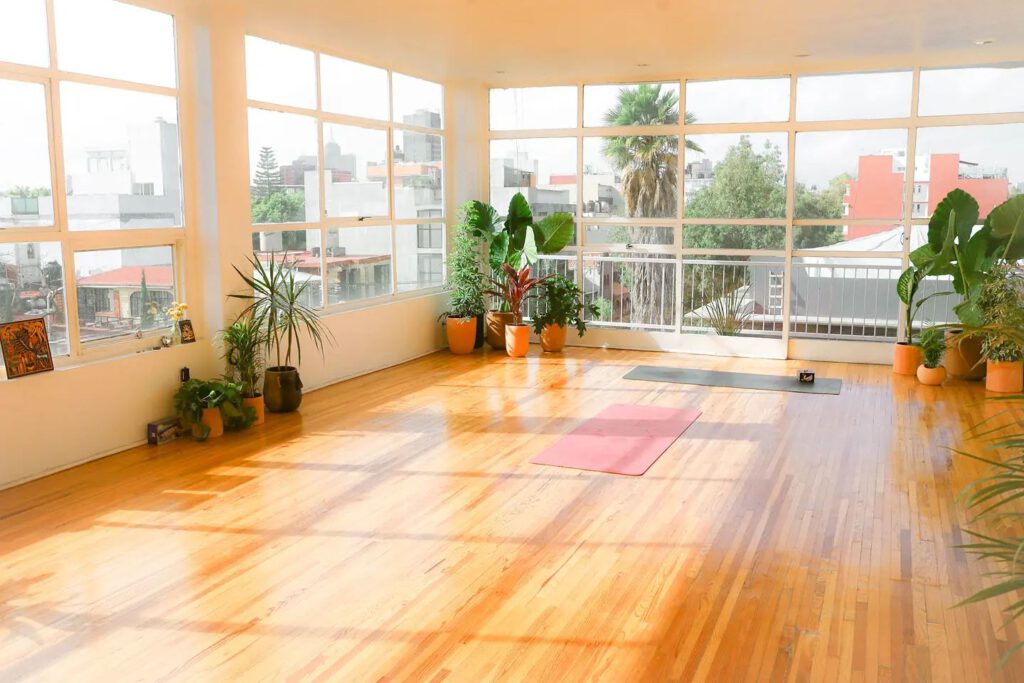 The Best Yoga Studios in Mexico City, La Condesa & Roma
There are way more yoga studios in the area than listed here, but these are definitely the most recommended and loved ones by all.
Amsterdam 171-int 101, Hipódromo, Cuauhtémoc, 06170 Ciudad de México, CDMX
One of the oldest studios in town, holding it down since (like forever) and offering holistic classes that not only focus on asanas, but also spiritual evolution, such as dynamic Rocket Yoga, Vinyasa Yoga, Ashtanga Yoga, Dance Yoga Kids and Yoga Teacher Trainings in Mexico City.
Yucatan 69 2nd floor, Roma Nte., Ciudad de México, CDMX
The place is all about the vibes. Beautiful boho design, and two sofa chairs to chill in the entrance, an amazingly huge studio with big windows, thoughtful affirmations and quotes on the wall (not the cheesy always the same ones), and next to yoga also ecstatic dance, meditation, kirtan and full moon ceremonies. Amazing energy and welcoming, knowledgeable teachers.
Fernando Montes de Oca 69 #401, Condesa, Cuauhtémoc, 06140 Ciudad de México, CDMX
An amazing light-filled and cool yoga space run by two quirky Canadians (a photographer and a yogi) that also lead women's retreats in magical places in Mexico and micro-dosing embodiment sessions of yoga, dance and mushroom-cacao.
C. Antonio M. Anza 19, Roma Nte., Cuauhtémoc, 06700 Ciudad de México, CDMX
An all-around healing space with rooftop terrace, yoga studio, and healing sanctuary for sound healing, cacao ceremonies and, of course, yoga classes! The place emanates peace and calm and heals already just by being there.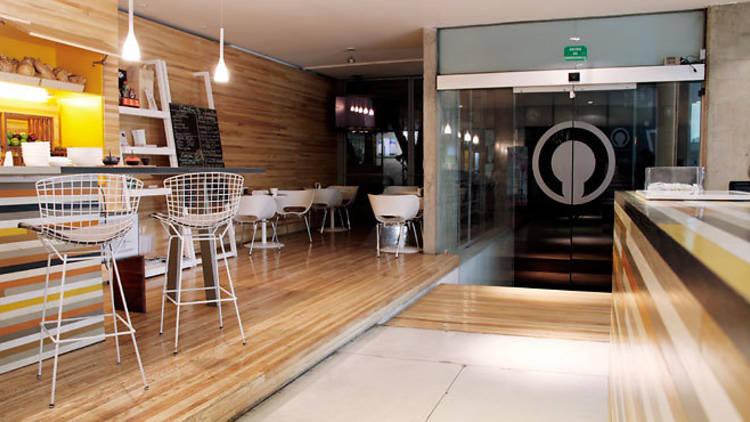 The Best Gyms in Mexico City, La Condesa
Amsterdam 317, Hipódromo, Cuauhtémoc, 06100 Ciudad de México, CDMX
This space on 4 floors comes with two levels filled with Technogym equipment, enough space and enough machines for everyone to get what they need, a huge bouldering wall, 3 studios for yoga, pilates, meditation, spinning, dance fitness and Milles Tones, plus a SPA, a fancy cool rooftop garden and a health bar.
The kicker is the steam room aka Hammam in the wardrobe, for the perfect wind-down after a strong session.
Everything is clean and well arranged, the staff is very welcoming, the feel is like pre-pandemic (yay!) and on the entrance area there is free water, a hairdresser and barber and a cosmetics shop. It's all about the energy: Qi is the name, and Qi is literally what you get.
I came here on recommendation by my flatmate from my Airbnb, when I had a week of fairly low energy. After the first session (in which I was breathing heavily and getting half done of what I usually do), I recuperated my normal energy levels, and from the second and third session onwards my energy levels where so high, I even went two times in the same day, wondering what else I could do with all this Qi!
Cto. Interior Mtro. José Vasconcelos 99, San Miguel Chapultepec, 06140 Ciudad de México, CDMX
A typical Crossfit in a cool spacious warehouse-type building with classes in- and outdoors and open-plan to train in your own rhythm. Extremely friendly staff and a great atmosphere to feel like at home, even if you don't live in the city and just come for a short visit!
It's super close to the Parque Chapultepec, one of the biggest parcs / forests in Mexico City, which you can use as your oxygen therapy right after class!
---
If you know of any other cool places in La Condesa and Roma in Mexico City, where you get your wellness, yoga and fitness on, let me know and send me a message!