The world has been changing rapidly over the past years, and thereby also the places for digital nomads. The 2020's have shows that remote work is a viable option for many, and that working from dream destinations can lift the mood, improve creativity, and enhance work-life-balance.
When Portugal was one of the under-cover locations just a few years ago, it suddenly climbed to the first spot on the list, according to Nomad List. And that not being Lisbon, which I would have suspected, but Ericeira – the little surfer town up the coast!
Mexico as well has been on the rise for digital nomads (unfortunately with increasing rent prices), since more and more find their Joy in travelling this diverse and inspiring country. Whatever you like – beach life, city life, mountain time, village flair – you've got it all here.
Another dream destination for digital nomads is Colombia, which has been becoming more and more popular in the recent years. Since Colombia offers nature, such as in the Sierra Madre, but also urban lifestyle in Medellin.
But there is more! Let's have a look at all of the 14 best places for digital nomads in 2023, and see which destination you might like the most!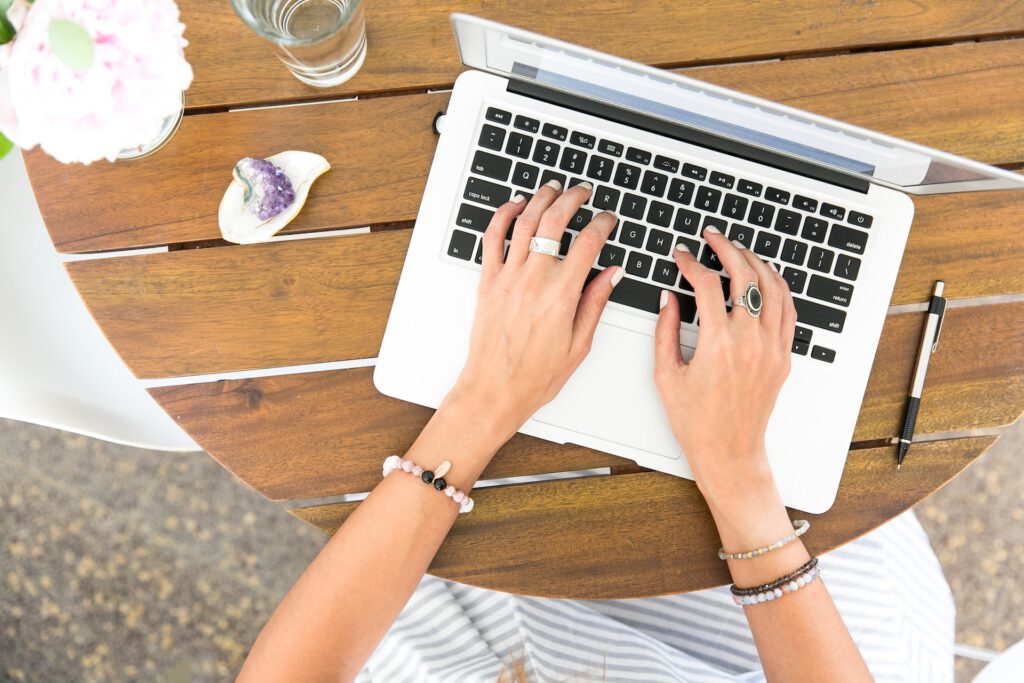 Lisbon, Portugal
Canggu, Bali
Ubud, Bali
Madrid, Spain
Playa del Carmen, Mexico
Medellin, Colombia
Oaxaca, Mexico
Budapest, Hungary
Chiang Mai, Thailand
Ericeira, Portugal
Puerto Escondido, Mexico
Tulum, Mexico
---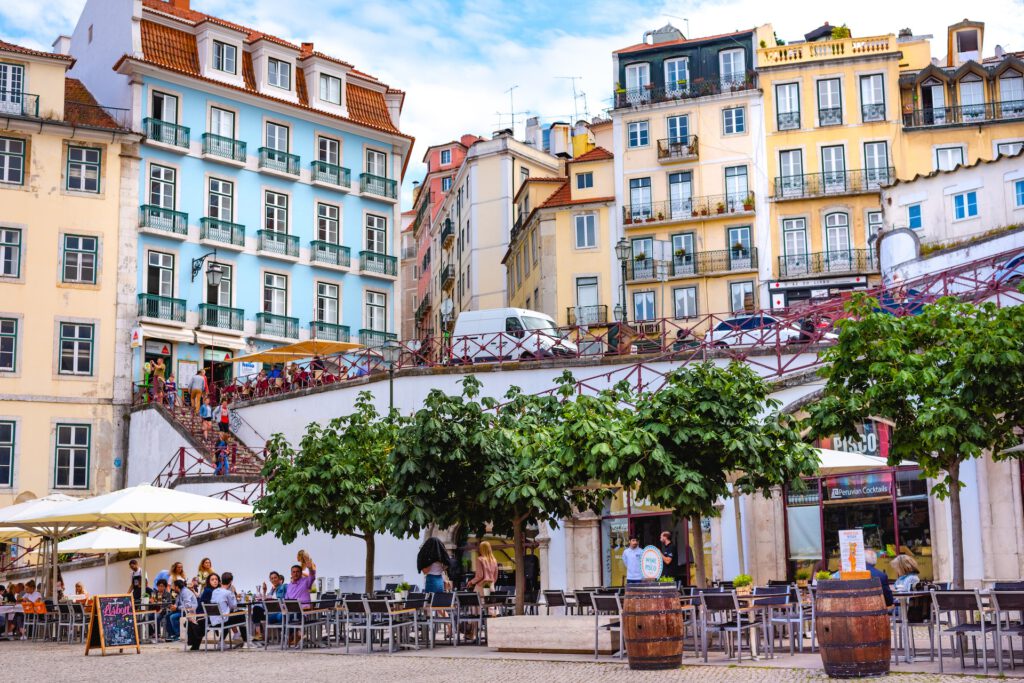 1. Lisbon, Portugal
Lisbon has been on the rise for a few years, but definitely gained more traction in the past three years. This charming city with colorful houses decorated with tiles, beautiful view points, endless cafés and restaurants, beaches nearby, and a slowly emerging Start-Up scene is the new hot spot for digital nomads. Also, because you can get a digital nomad visa for Portugal.
Not only has Lisbon a great nightlife – from salsa, to kizomba, to DJ bars, live music, and club nights – but it also offers a growing wellness community, cultural events, modern art, and my personal favorite – a lot of street art.
The prices for living are at around 500-700€ for a room and 850-1000€ for an apartment, while local food and eating out are moderate, compared to other European cities (Espresso 0.90€ at a local café). A hot desk at a co-working space is between 150€ and 300€. Pay attention that when you are renting an apartment, the agency needs you to have a guarantor from Portugal, or you will have to pay one month more of deposit. It depends on the agency, how flexible they are. Some are not at all, others are happy to rent to a foreigner with proof of regular income.
Check out our Cool Guide to Lisbon on Amazon with the best locations for food, wellness, and music + co-working to discover.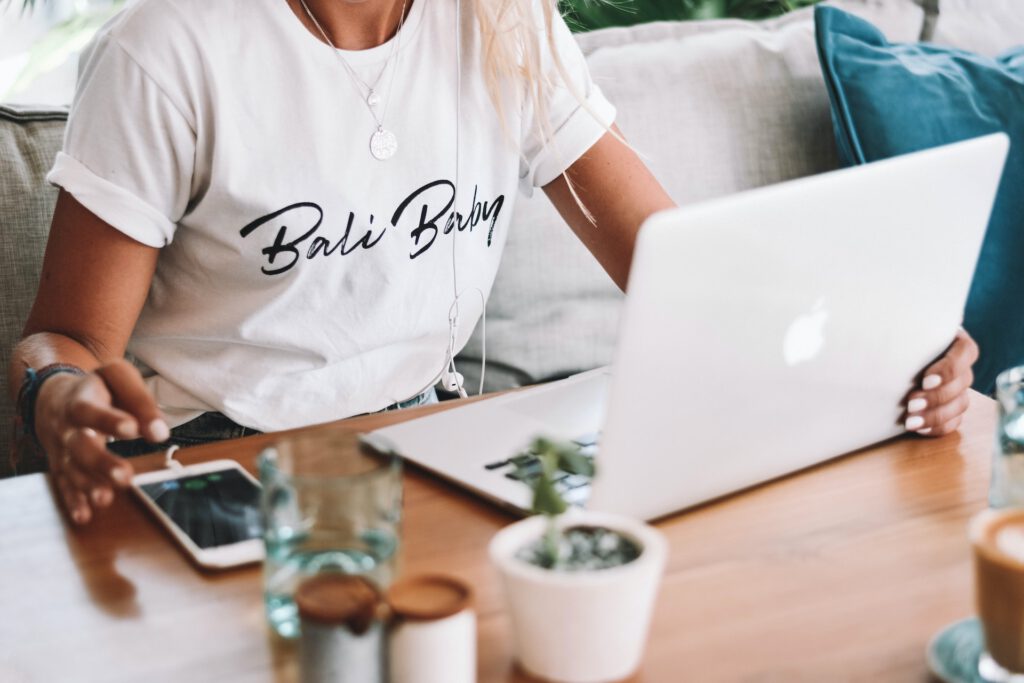 2. Canggu, Bali
Canggu is a dream destination since years, if not decades, but really unbeatable. The relatively low prices for rent, the amazing food, the parties, the sunset, the surf, the rice paddies, the co-working spaces, the business meet-ups – Canggu has a lot to offer. It can get crowded, since every health coach, conscious business owner, yoga teacher, surfer, and your grandmother want to live in Bali.
But it's still so good. The Island of the Gods is always worth a visit. Dolphin watching up North, snorkelling and diving down South/East, spiritual community in the centre, and surfing in the West. The digital nomad visa has been talked about but is not ready yet for Indonesia. You will have to come on a tourist visa for 30 days, which can be extended for another 30 days, or get a B211 business visa through an agent.
Room prices are starting from 300€, a 1br villa with pool is around 500€ – 1000€. The local food can be as low as 1€ per plate, however, the tourist cafés with acai bowls, keto diet, and whatnot will cost you more like European prices. Facebook groups are usually best to find a spot, or on-site walking around the neighborhood asking locals and keeping an eye open for the signs that say "to rent".
Co-working is around 45€ / 25h, and 180€ / month of flex desk.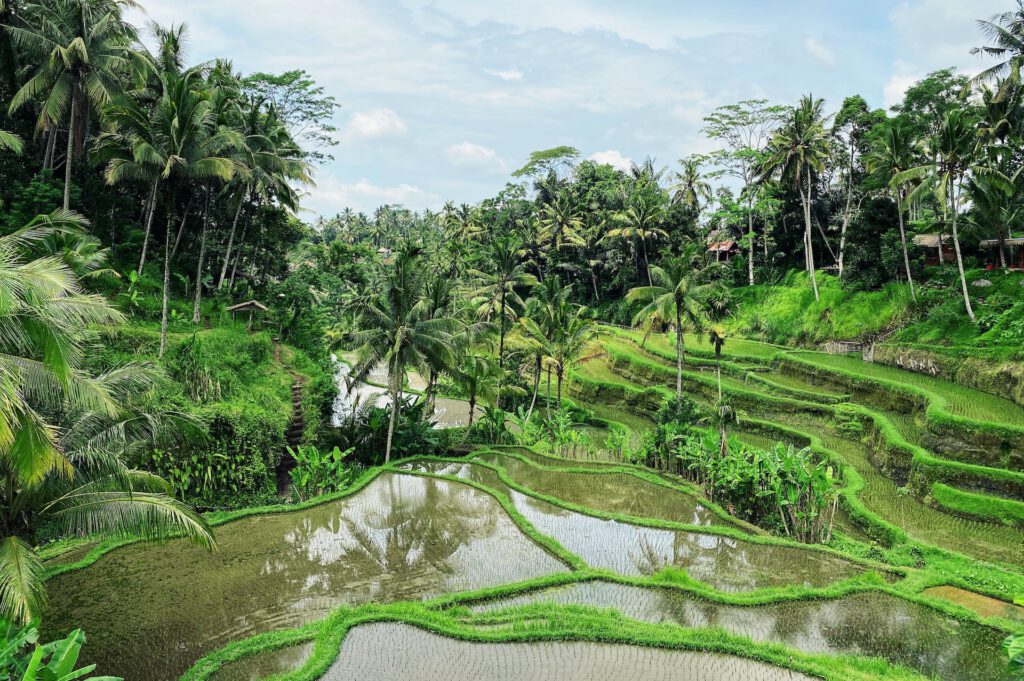 3. Ubud, Bali
Ubud is still one of my fav places. The centre is filled with cafés and restaurants, the surroundings with rice fields and little home stays and villas, and you have the best yoga studios on the island here. Ecstatic Dance takes place every week at the Yoga Barn, and Akasha hosts some nice conscious parties, too.
Prices are similar to Canggu. There are plenty of co-working spaces for digital nomads in Ubud, as well as business events, although Ubud is definitely leaning more towards the spiritual side. Think breathwork, yoga, pranic healing, ice baths, and the like.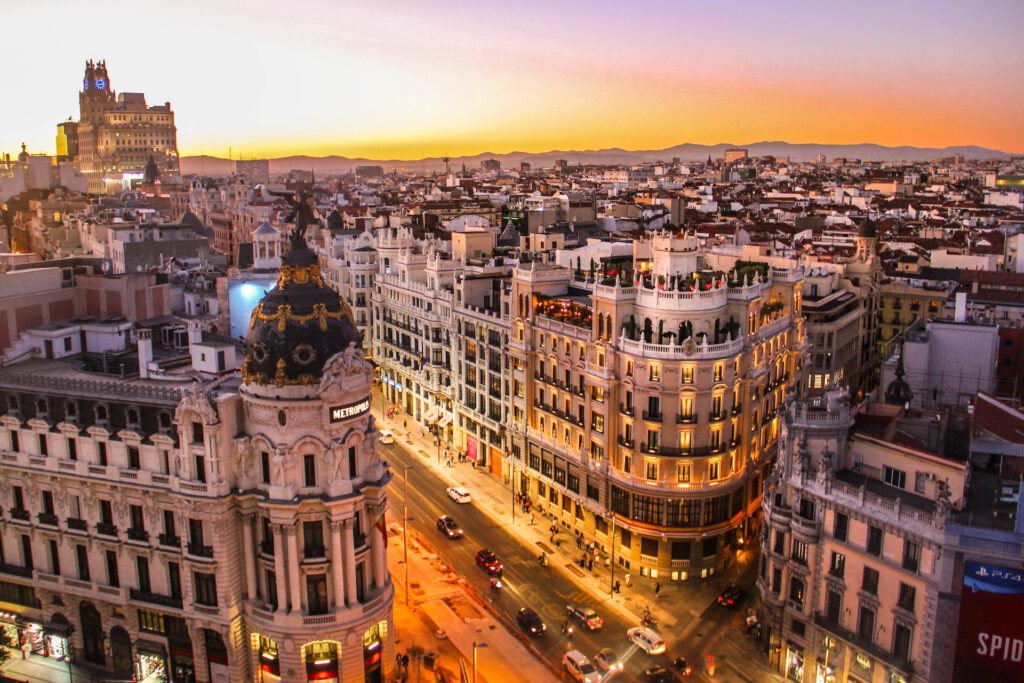 4. Madrid, Spain
Madrid is a stunning city with typical Spanish flair, lots of nightlife, and a ton of entrepreneur, AI, Start-Up, and digital nomad meet-ups. You can obtain a digital nomads visa for a year, to live in Madrid. You really can't go wrong with Madrid. Be it to learn Spanish, take flamenco classes, indulge in tapas and beer, o check out the museums, parks, and live music – Madrid is simply inspiring.
Room prices start at 500€ if you book a few months in advance, studio / apartments are between 750 – 1200€. Spotahome is a great place to find a place for 1 – 6 months stays. Co-working spaces (which are really cool by the way) are 15€ / day and 150€ / month.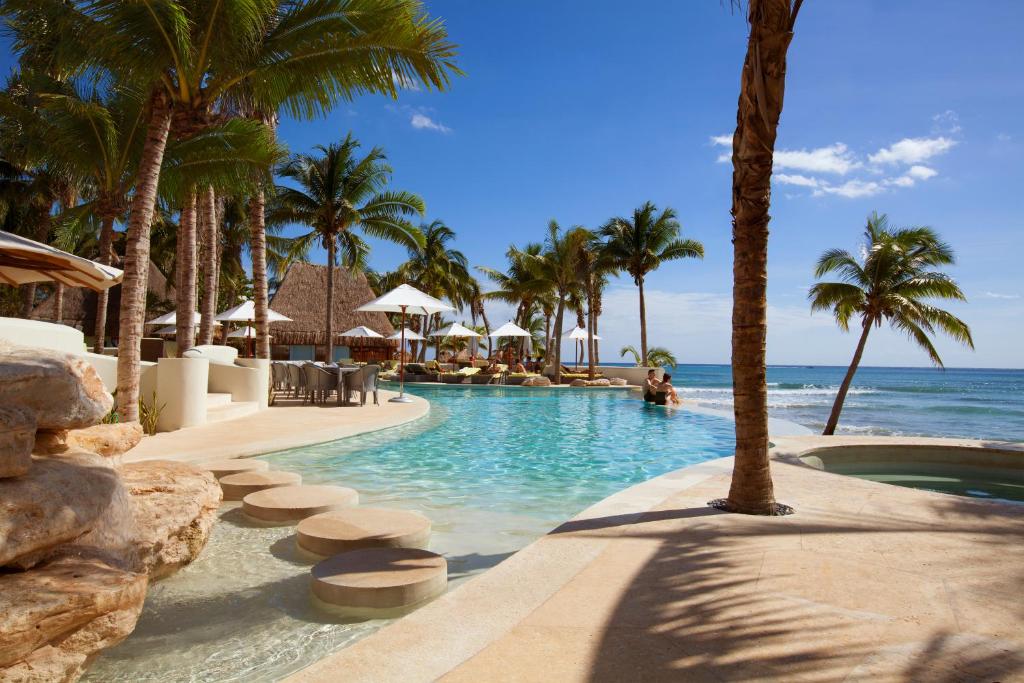 5. Playa del Carmen, Mexico
Playa del Carmen is a hotspot for expats and digital nomads and offers a variety that few places can offer: an emerging crypto community with weekly meet-ups, entrepreneur events, lots of vegan restaurants, a beach, nearby jungles and cenotes, close-by Mayan temples, a spiritual community, extraordinary nightlife an hour away in Tulum, and a decent amount of co-working and co-living spaces. Airbnb's are also accessible from their pricing, so it's a wrap.
Studios close to the centre start at 500€ and can go up to 1000€, rooms cost around 400 – 500€. One option is to test out Airbnb's and then speak to the hosts directly, if you want to stay longer, or follow the facebook groups to get offers directly from locals. Co-working is around 50€ / week, and 150€ / month.
Check out our Cool Guide to Playa del Carmen on Amazon with the best food, wellness, music and co-working.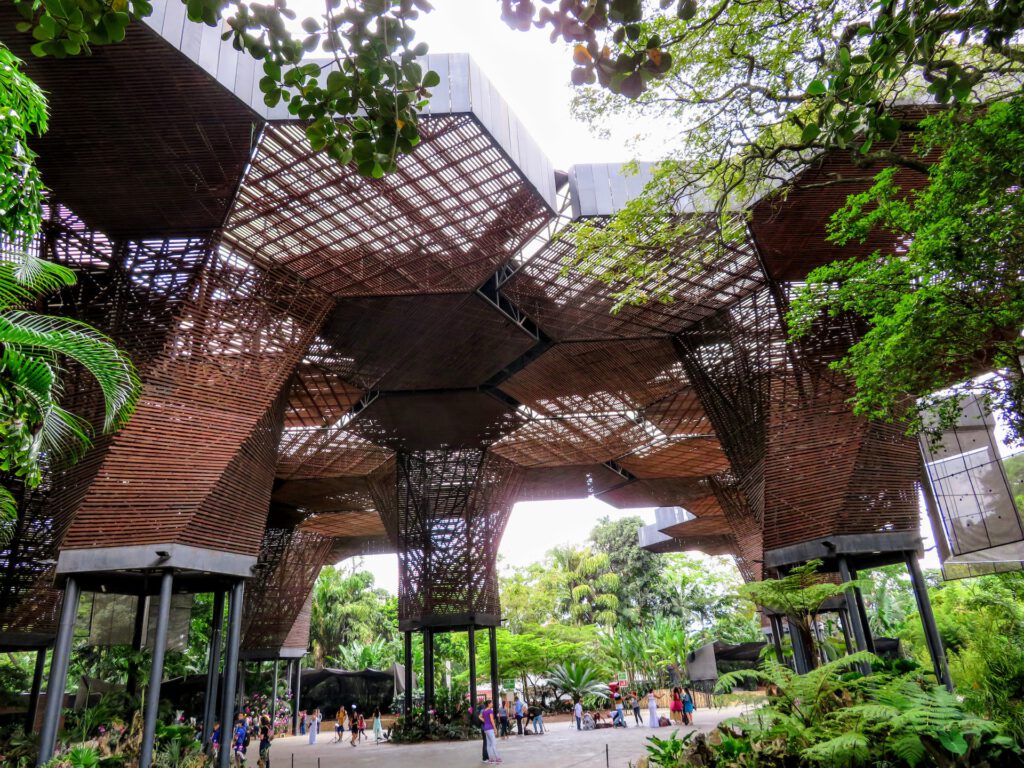 6. Medellin, Colombia
Medellin is on the rise, too, as a digital nomad destination. Colombia has introduced a digital nomad visa last year in October. This charming, multi-colored city has a lot of great cafés, co-working spaces, nightlife, crypto meet-ups, language exchange meet-ups, and Start-Up workshops to offer.
Colombia has a great advantage compared to the other destinations, as rent prices are 85% lower than in the USA, and you can find a studio apartment from as low as 270€ / month in the centre of Medellin. The average food prices are a tad higher compared to the cost of living, and a plate of local food will cost you around 3,50€, while an upscale experience will be around 16€.
Co-working starts at 6,50€ / day and 95€ / month.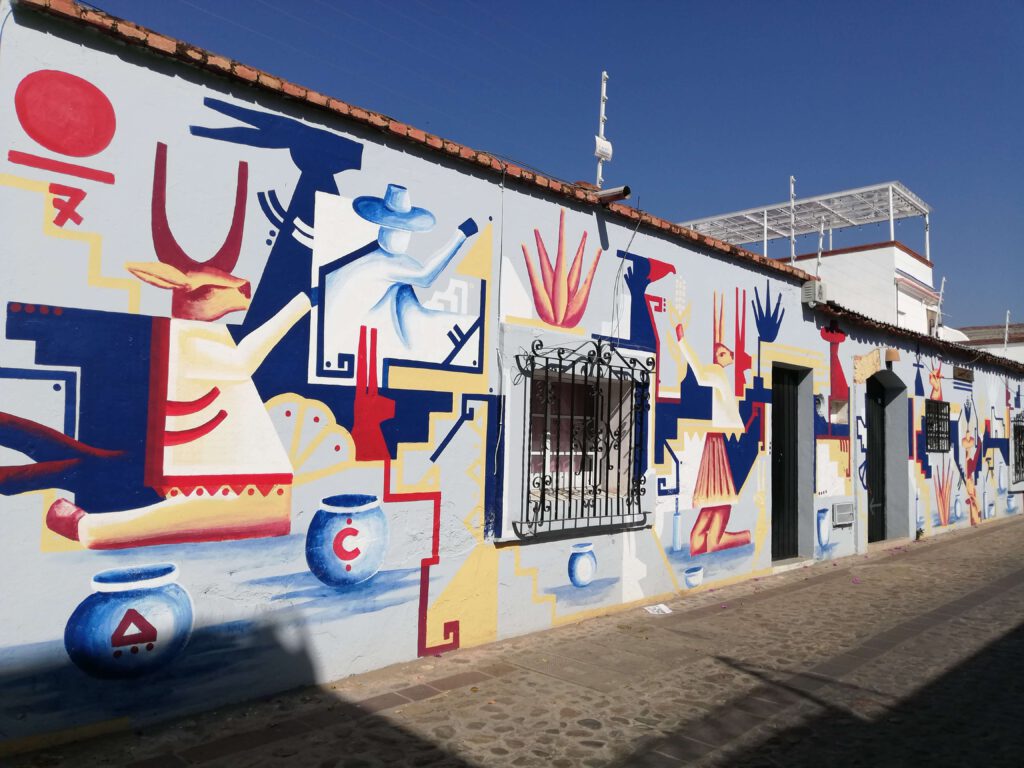 7. Oaxaca, Mexico
Oaxaca is another insider digital nomad destination, that has risen to more fame during the last two years. This beautiful city filled with street art, amazing restaurants (including vegan), great cocktail bars (mixología is a thing here), and lots of shops with traditional and modern fashion, art, and pottery, is worth a visit anytime during the year. The weather is all year-round moderate, with more sunny days in October – April before the rainy season starts in May.
Oaxaca City has several cafés for co-working around town, as well as a few co-working spaces, which cost you 7€ / day, 50€ / week, or 100€ / month. The nightlife is not as extensive and stays limited to local bands, a few bars with DJ's, playing mostly reggeaton and cumbia. There is one night club for electronic music, though. To meet people, join the active social meet-up group on telegram/whatsapp, but entrepreneur meet-ups and nomad meet-ups are scarce.
Oaxaca is great if you want to visit a more traditional part of Mexico, take workshops, excursions to nearby ancient ruins, and stunning sites in nature, eat to your hearts content, taste delicious cocktails with Mezcal, wonder at the amazing street art throughout the city, and learn about local traditions. A simple studio will cost you around 400-500€, a room around 300€. Co-living spaces are more expensive, though.
Check out our Cool Guide to Oaxaca City on Amazon to find the best co-working cafés, restaurants, parties and souvenirs as a digital nomad.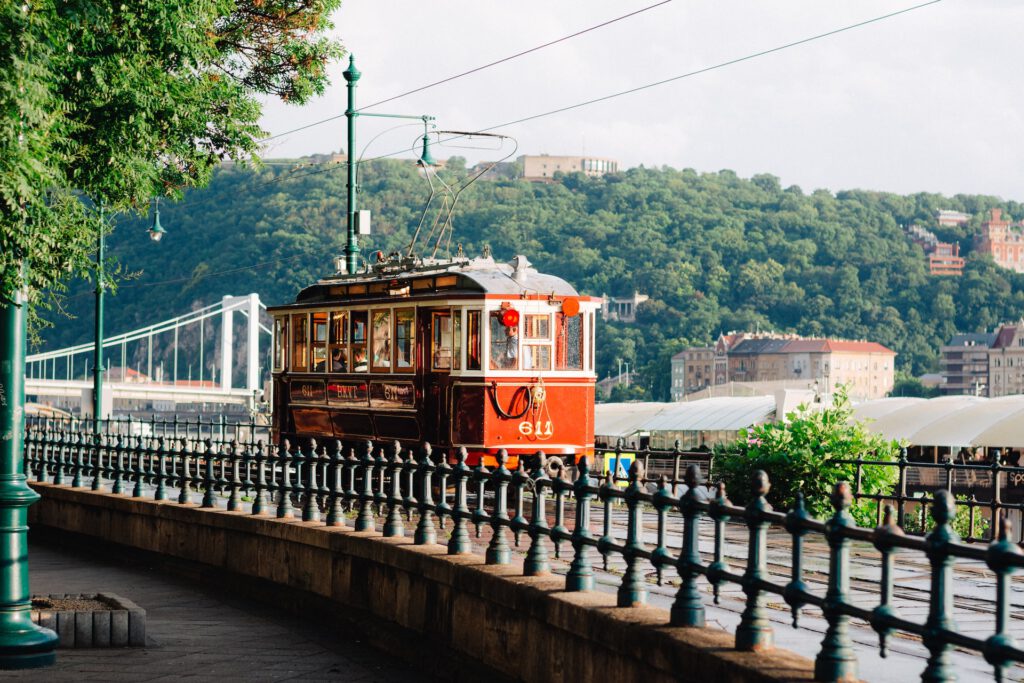 8. Budapest, Hungary
Budapest is a beautiful old city in the East that deserves a mention here. Not only is the food great (try the Langos bread with sour creme and cheese), but also the prices are decent. It's a gem off the beaten path, perfect for a month of being a digital nomad and exploring the region.
Known for its bath houses, amazing music festivals in summer (Sziget festival), and thriving nightlife, Budapest combines rustic charme with a lot of history and monuments. Expect to pay between 550€ – 650€ for a studio, and 220€ – 380€ for a room. A 2-course-meal starts at around 15€, a beer 2€ and cocktails at 5€. Co-working spaces cost you 10€ / day and 150€ / month.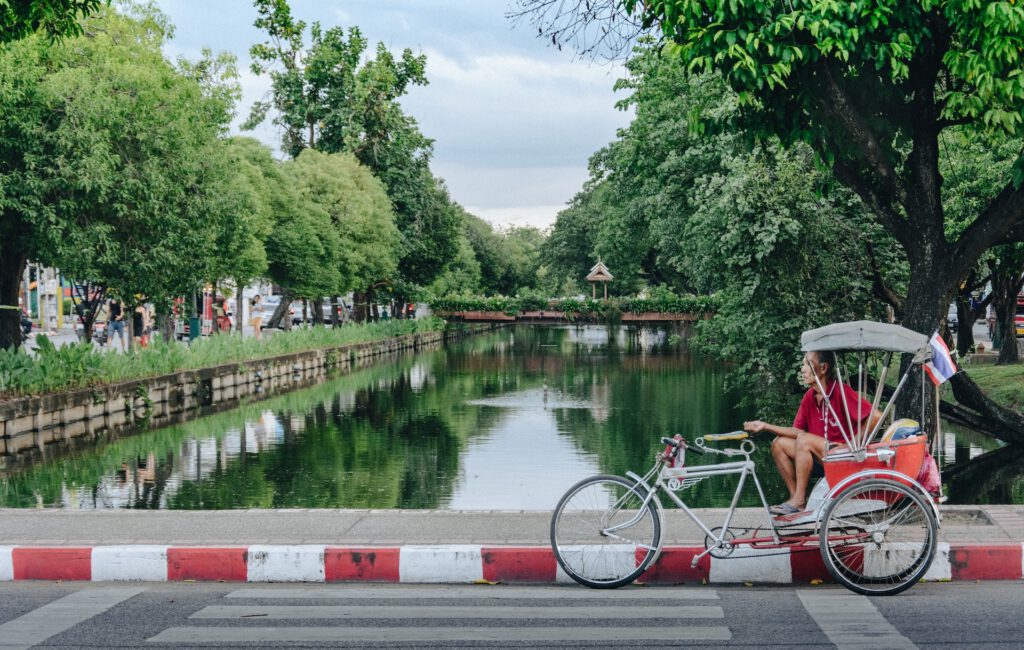 9. Chiang Mai, Thailand
Chiang Mai has been on the bucket list for digital nomads for decades. It's the hotspot in Thailand to enjoy mountain city life, Thai food, a bit of wellness, and meet other nomads that like to live simple life. rent prices are low, and life is easy.
The Warehouse Chiang Mai, which has a salt water pool, a garden, and huge artisan rooms costs you 25€ / night, local home stays will be around 200-300€ / month.
Co-working spaces are not as spread out, so you might also stay at a cool hotel or hostel and work from there. Heartwork the Sharing Space however is a very big café and co-working space that asks for 60 Baht / day entrance fee (1,60€) to work from there.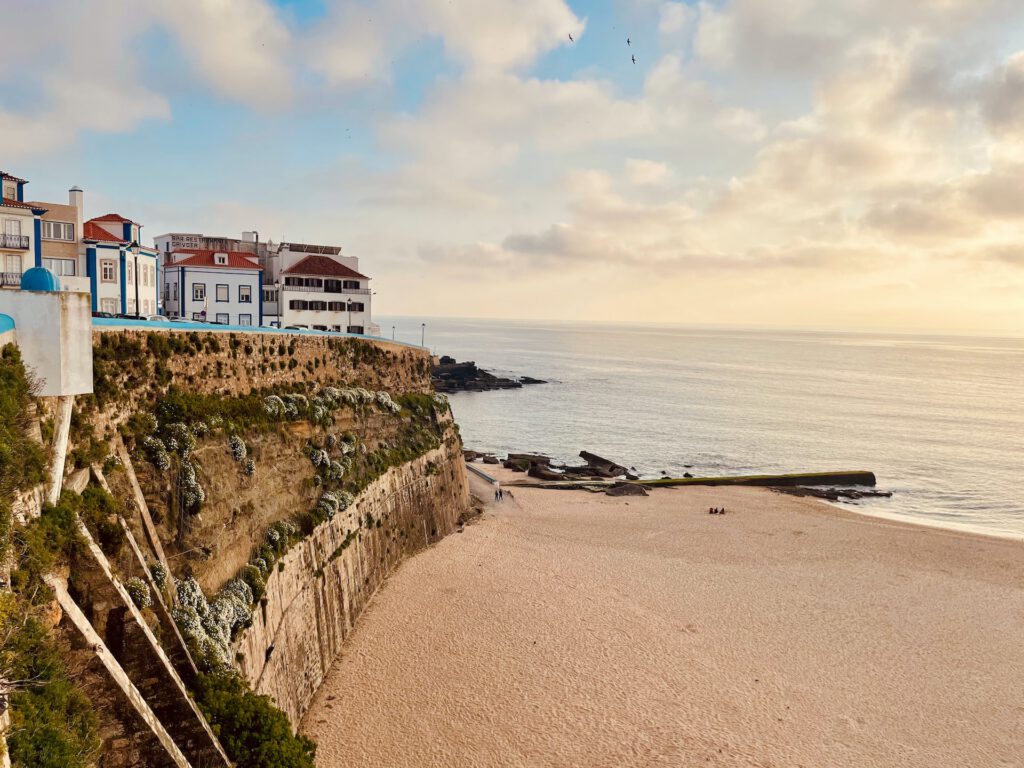 10. Ericeira, Portugal
Ericeira is one of the most favorite spots for surfers in the world, since there are many beaches and waves are coming all year round. Sometimes the current is really strong and Nazarét, which is close-by, has some of the biggest monster waves in the world.
Ericeira town itself is small, but has a good surf / digital nomad community. There is not much to do apart form surfing, working, excursions into nature, and yoga, so staying longer is maybe not the option, unless you really like a low-key fitness-centred outdoor life. On the other hand, Lisbon is only an hour away, so there is that.
Rooms are around 400€, studio apartments starting at 700€.
Co-working starts at 15€ / day and 180€ / month at Salt Co-working, but there is also a spacious restaurant in town, where usually all digital nomads meet up, and you only need to order drink and food.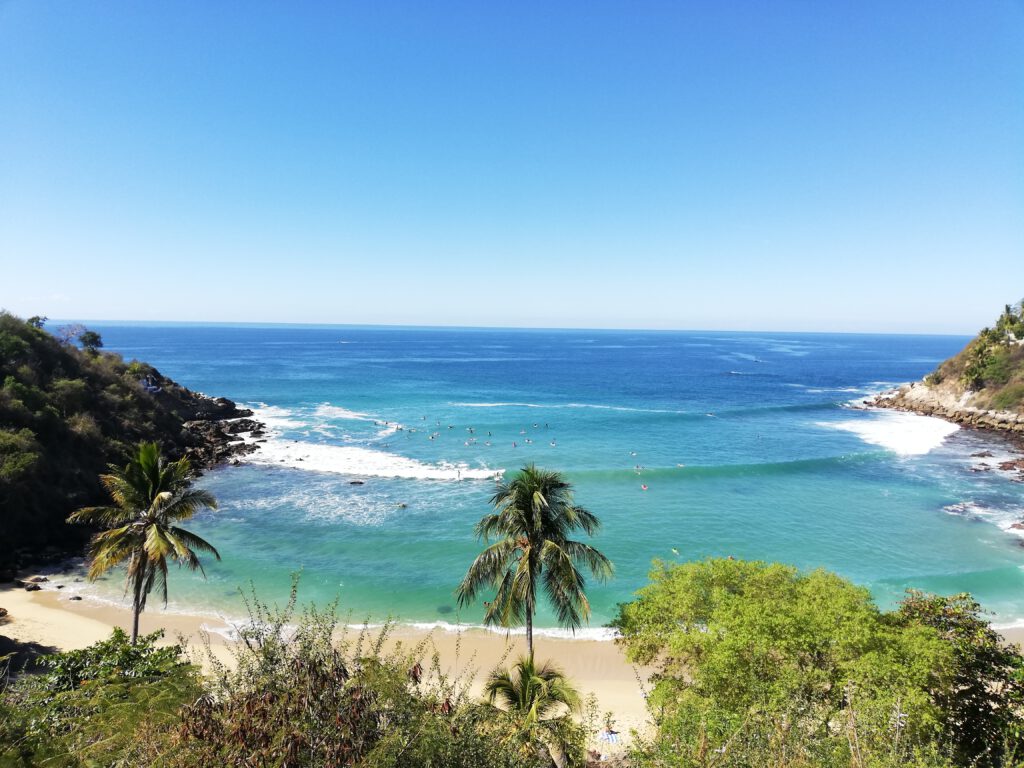 11. Puerto Escondido, Mexico
Puerto Escondido is another one of these fav surf spots in the world, that has been a secret for many, but the last few years turned a page here. This laid-back place has a lot to offer for being so small. Puerto Escondido is divided into 4 different areas, has a lot of surf beaches, yoga classes, electronic music parties at several beach clubs (which are really good), restaurants, cafés – and now also co-working spaces!
Unfortunately, the prices have been steadily rising, so if you can get a room through locals, it will cost you around 400-500€, on Airbnb the prices are sometimes double. A studio (again, if you speak to owners directly) is between 500€ – 800€.
Co-working spaces cost you 12€ / day, and between 130 – 170€ / month. But there are also several cafés that catering to digital nomads with stable wi-fi and ample seating space. Just be aware that are essentially at the beach in most places, and surfers come in and out, so it's not always the best work environment, if you need to sit there for a few hours.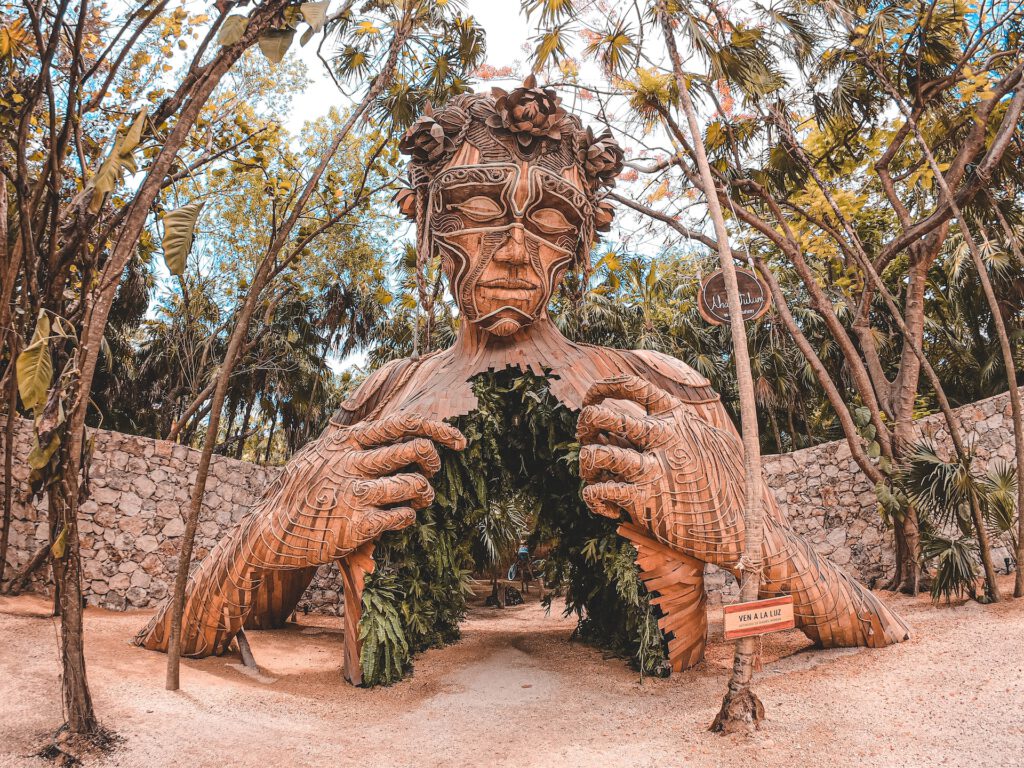 12. Tulum, Mexico
Tulum is a unique place. The high season between November to March is packed with digital nomads, millionaires, entrepreneurs, artists, and healers. The off-season leaves the city almost empty. It's actually a small space, but between centro, Aldea Zana, La Veleta, and the beach (where most of the parties with DJ's happen at upscale resorts) is a stretch. So you need a motor bike, car, or a taxi either way.
Rooms are at least 500 – 600€, a studio 700 – 1200€. Whereas the lower prices are harder to come by, you really need to dig into the whatsapp groups and local community.
Co-working spaces are 17€ – 20€ / day and 170€ – 200€ / month, however, Tulum Co-working Community offers a membership for 90€ / month or 400€ / season, which gives you access to a whatsapp group, regular events and several co-working areas around town (in hotels and restaurants with ample space), which seems to be working really well for the members.